This article is more than 1 year old
Vista first look: Bugs and confusion
A massively multiplayer beta test
Review The most prominent feature of Windows Vista is its cost. So, before we get into the nuts and bolts of how it behaves, let's talk about value for money. Because at these prices, it had better be good.
The stand-alone version of Vista Ultimate retails for €600, or $780 here in Ireland. Amazon.com is selling this $780 version to Americans for $380. Or, to put it another way, Europeans are subsidising Americans by $400 on every copy they buy.
Bill Gates tried to explain this anomaly during a BBC TV interview by claiming that Microsoft "tries to keep prices largely in line country by country." Bill said that he had "not followed how the exchange rates made that drift", and added that rates "can go out of alignment as currencies go up or down".
Apparently, Bill's minders had neglected to prep him for that question, because if he understood even the basic principles behind currency exchange rates, he would have known that the "drift" would make Vista cheaper in Europe. The American $380 stand-alone Vista Ultimate package would retail here for €292 plus VAT, not €600 with VAT. So obviously, there's some monkey business going on with the price, and Bill isn't fooling anyone.
I bought the Home Premium upgrade for this series of reviews, and paid €250, or $325. Amazon sells it to Americans for $154, or €118. Still, I'm content to subsidise American consumers, who are watching their currency sink steadily to the status of third-world company scrip. I've always believed in being generous with foreign aid.
And yes, you read right; I bought it. I requested a review copy, as did my colleague Joe Fay. Meredith Budwin, from MS's PR machine Waggener Edstrom, told me that MS would do its very best to accommodate, but there were problems with limited availability, finite budgets, etc. "We may be unable to provide a review copy due to the large volumes of inquiries received," Budwin explained. This from a company that can afford to bribe bloggers with free Ferrari laptop computers, but somehow can't afford a fifty-cent plastic disk for The Register. Right.
Eye candy
If Vista's price, especially for Europeans, is its most eye-popping feature, its second most eye-popping feature is the Aqua Aero desktop interface. Windows now has translucent icons and translucent window borders. Taskbar tabs zoom, with graphical preview thumbnails showing the window's contents, just as they do in Aqua (I turned that nonsense off immediately - what a distraction).
Indeed, Aero looks nearly as good as KDE, although it demands about three times the system resources. But there's more. Window layouts have changed for the better, especially for file browsing.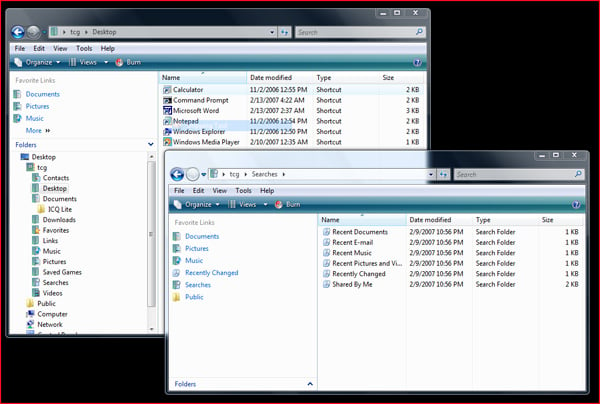 The directory and file organisation, and the overall look and feel, are strangely reminiscent of...oh...what's the name of that OS I'm thinking of? But this is not to say that imitating Apple hasn't made the Windows UI a lot better. It has. Search looks like a Spotlight clone, but it's been improved from the bottom up, and it's available in any window dealing with file management or system management, and from the start menu. It's much faster now, and quite easy to configure and refine. Users benefit from improved indexing, and from more control over indexing options. And users can add metadata to files to make searching easier.
And the location bars, or address bars, have been changed, making it easy to navigate from there. You simply mouse-over to reveal a button corresponding to a previous or higher location, and click to get there. It's nice not having to use the back button repeatedly or backspace over the path; I like this feature a lot.
Microsoft's next homage to Apple is the sidebar, a collection of little utilities and other single-use apps like clocks and timers and feeders bearing news headlines, stock reports, sports scores, etc. These are called Gadgets, to distinguish them from Apple's Widgets. Thus, we can say that they're not actually identical. One of the first things I did after I installed Vista was turn off the sidebar. I found it quite distracting. However, others might like it, so I won't criticise it.
You will also find a very iCalendar-looking Calendar, and a very iPhoto-looking Photo Gallery. Neither of which is bad. The look, feel and behaviour of both is quite similar to the Mac versions, which is all the better. Photo Gallery allows for simple editing, making slideshows, and burning to DVD, and you can add metadata to make searching easier. You can even import videos into the Photo Gallery and edit them or merge them using Movie Maker, which means that all those little porn clips of yours will be far easier to assemble into something that will last for the required three minutes. Again, files can be saved locally, or burned to DVD quite easily.