Amazon.co.uk disappointed eager buyers today when its pledge to begin offering its entire launch allocation of 60GB PlayStation 3 consolea to pre-order customers first thing this morning went awry. The firm was supposed to start taking advance orders for the PS3 from 9am this morning, but the sale didn't commence until 1:35pm.
The PS3 is due to go on sale in the UK on 23 March. Amazon recently invited interested consumers to sign up for arrival-notification emails. Earlier this week, it sent out one telling folk: "You can pre-order yours at Amazon.co.uk from February 15, during business hours (9am - 5pm GMT).
"We will stop taking pre-orders once we've pre-sold all the consoles Sony have allocated to us for release day. Order early to avoid disappointment! If you're not lucky enough to get hold of a PlayStation 3 in our initial pre-order window, we'll email you when we get more stock in."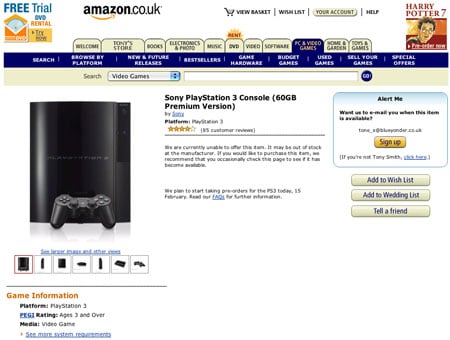 Amazon.co.uk's PS3 page at 13:30GMT today - click for full-size image
Unsurprisingly, a fair few eager PlayStation fans have been accessing Amazon's UK website today to avail themselves of the pre-order opportunity. But according to Register Hardware readers who tried to place orders earlier today, the promised pre-order offer had yet to appear.
We tried at 1pm, four hours after the stock was due to be offered, and we can confirm the page was still stating: "We plan to start taking pre-orders for the PS3 today, 15 February."
By 13:40, however, the sale had begun: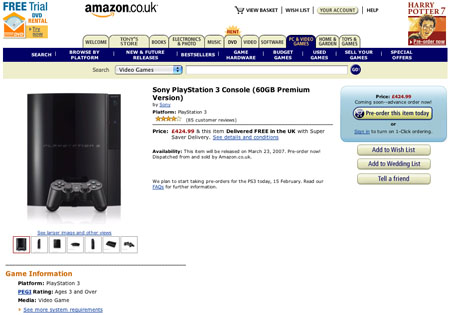 Amazon.co.uk's PS3 page at 13:40GMT today - click for full-size image
The PS3 will initially ship only in its 60GB version, for £425, Sony said last month. Despite the high price - and the fact that it's claimed the price could fall by 25 per cent later in the year - demand for the console is expected to be very strong.
Earlier this week, Sony said it will send the first 500,000 PS3 owners who register online with PlayStation network a free copy of Casino Royale on Blu-ray Disc.