AAAS Yet more evidence of liquid erosion on Mars from the high resolution camera aboard the Reconnaissance Orbiter has further bullet-proofed claims that there was once water on Mars.
The findings, released on Thursday, reveal patterns of light and dark minerals around fractures in 3km-deep bedrock exposed to the surface of the Valles Marinaris by wind erosion. The Valles Marinaris extends the length of the US and is almost seven times deeper than the Grand Canyon in places.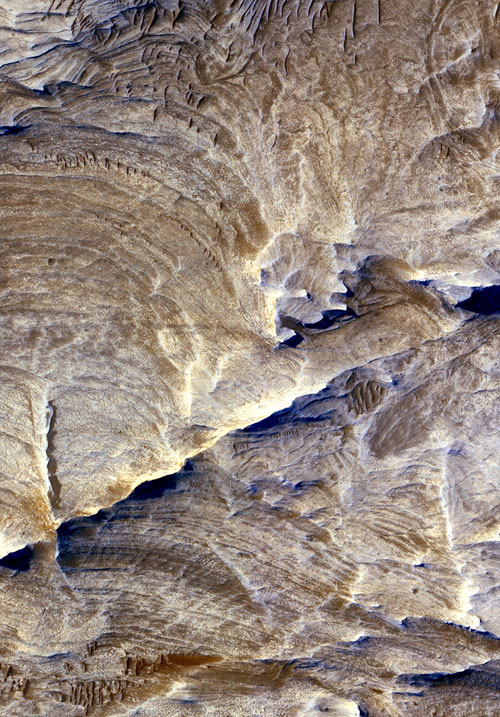 The light "halo" areas on the exposed canyon walls were identified by the Orbiter's HiRISE camera, which can identify features 30cm across. Geologists working on the images, which will be published tomorrow in the journal Science, interpret them as evidence that minerals in the bedrock have been "bleached" away by chemical reactions with liquids, most likely water, as in apparently similar fractures on Earth.
The University of Arizona's Chris Obuko, who led the team, said the 2km-deep fractures were found in many other places on Mars too and were hundreds of millions, and possibly billions, of years old.
Speaking at the American Association for the Advancement of Science annual meeting in San Francisco, he said: "They are glimpses of surfaces that used to be underground." They add context to the strong case for water on the ancient Martian surface provided by the several other strands of evidence.
News that water may interact with Martian rocks in this way could provide an energy source for life underground on the now freezing and inhospitable planet. Hydrogen release in similar Earthbound processes is used by unusual bacteria to effectively live off energy stored in rocks.
NASA Mars Orbiter scientist David Des Marais said: "We're finding so many different evidence for water in so many different places we need to come up with new discriminators to decide which are the most exciting [in terms of the life question]."
Rather than just a "follow the water" strategy, the hunt for life on Mars is moving on to a more complex "follow the energy too" campaign. NASA astrobiologist Tori Hoehler said the challenge now was to undrstand how the planet itself might support life without access to sunlight.
Obuko's team plan to back up their visual interpretation with measurements of the mineral composition by spectrography. Ideally, Mars Opportunity Rover, which is currently on the other side of the Victoria crater to one of the regions, would make the long journey to the other side to provide measurements at the highest resolution possible. Alternatively, the Mars Reconnaissance Orbiter could again be used to target the regions to make collect more HiRISE images and spectrographic data using its CRISM instrument simultaneously.
In a symposium at the meeting on Friday, Mars scientists will discuss the new image's implications for the habitability of Mars. ®
Similar topics