Nvidia inadvertently - we hope - yesterday told its customers they will have to wait until 6PM Pacific Time on 30 December for a crucial Windows Vista driver update for its GeForce line of GPUs. Reg Hardware readers looking for the software last night were presented with the following screen...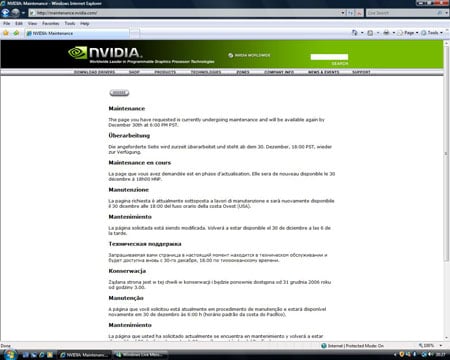 Click for full-size screen grab
"The page you have requested is currently undergoing maintenance and will be available again by December 30th at 6:00 PM PST," is what it says.
Well, we're pleased to report that Nvidia's engineers pulled their collective finger out and in a mammoth coding session completed the release in the small hours of the morning, well ahead of that end-of-year schedule, and posted them online for all to download.
Thanks to readers Thomas and Glynn, and all the others who reported this
Similar topics