Review Years ago, long before the iPod Revolution of 2001, somebody somewhere came up with the ingenious idea of packing portable speakers and then plugging their Discman in so they could listen to music in a hotel room, as very few hotel rooms had stereos of any sort.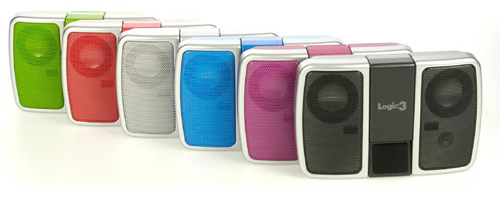 And now, post 'Pod Revolution, it's virtually impossible to move without being tempted by iAccessories of every sort ranging from toilet dispensers with iPod docks (seriously), running shoes with iPod connectivity and an almost infinite number of iPod-compatible portable speakers. One of the very latest of these is the Logic3 i-Station Traveller.

Despite being branded as iPod speakers, they come with a 3.5mm jack - exactly the same as most MP3 player headphones have - connection cable fitted into the speakers at one end. This means that they're compatible with every player available and not just Apple's audio assortment. It also means that they can plug into your laptop and provide sound when you're watching a DVD and such like. Having the cable attached is great as it means you can't lose it. However, not a great deal of slack is given so the positioning of the speakers when they're connected to a laptop is limited.
But perhaps most important is the sound quality. And when put through its paces with tracks like Hotride by the Prodigy, Been Caught Stealing by Jane's Addiction and the hardest house Renato Cohen has to offer, the compact little i-Station speakers performed admirably. Sound degradation only started to occur at maximum volume and with tracks that bang out a booming bassline.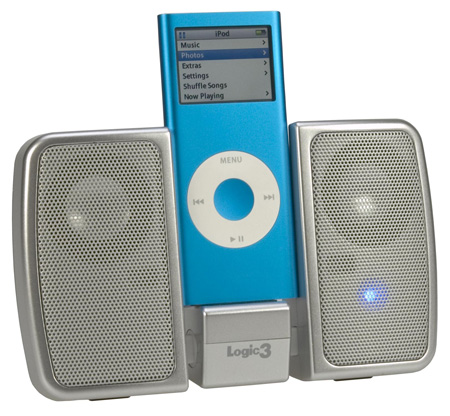 In addition to having a sturdy feel the i-Station speakers have a quirky folding design where you rotate the central column, pull apart the two speakers, plug in your music player of any type, then push the speakers back together and it all sits nicely balanced and self contained.
Powered by four AAA batteries, or a mains adaptor, the 32mm neodymium drivers deliver a total of 4W music power, and the whole device weighs a mere 156g. Six colours are available: pink, red, blue, green, silver and black, and the cost is a very reasonable £20.
Verdict
Not the most stylish, top-of-the-range speakers available, but then for the price, you'll be hard-pushed to find anything so compact and portable and that can take a knock or two. Ideal choice for My First Set Of Speakers for any MP3 player.
Sponsored: Webcast: Ransomware has gone nuclear

Logic3 i-Station Traveller portable speakers
A small, sturdy set of speakers at a steal of a price...