Nokia has added three phones to its fashion handset collection, dubbed "the L'Amour Collection". The Finnish handset manufacturer says it has released the phones due to a growing demand from "stylish consumers the world over". (Does that mean customers weren't stylish before?)
Nokia's 7390 comes packaged with a 3-megapixel auto-focus camera and WCDMA high-speed connectivity, video calling, and a music player with one-button access. It ships in bronze and pink, and is expected to cost €450.
The Nokia 7373 has a swivel design with a 2-megapixel camera, plays music and videos, has twin stereo speakers, and comes with a complementary fashion headset, pouch and phone jewellery. It should cost around €350.
And the pink Nokia 7360 comes with a stereo FM radio, integrated camera, MMS messaging, MP3 ring tones, and Nokia's Xpress Audio Messaging. It will cost approximately €200.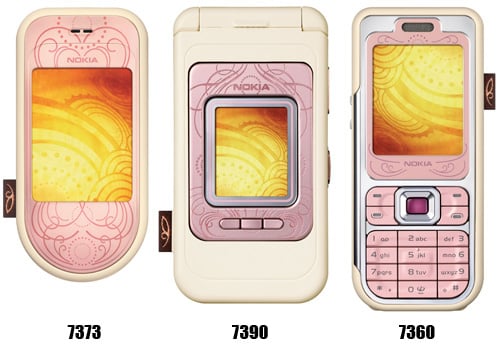 Just for entertainment value, we've added Nokia's description of these new phones: "The renewed L'Amour Collection is a universal journey of romance, a fusion of technology with traditional craft and a union of ancient art with modern communication.
"The collection espouses a 'nouveau-ethnic' feel – the muted tonality and bleached colour reflecting fashion's new and sophisticated way of incorporating decoration. Forms remain modern, round and pure. An earthy palate of colour and traditional materials, updates the bohemian feel of the earlier collection."