Tiny Radio Frequency Identification (RFID) chips, 64 times smaller than current devices, have been developed by Hitatchi in Japan.
Little bigger than a grain of sand at 0.05 x 0.05mm, the chips come with a 128-bit memory capable of storing an identification number of up to 38 digits.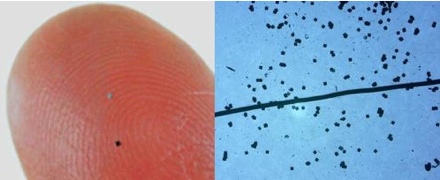 RFID powder chips (right) are 64 times smaller than Hitachi's existing technology
Advances in semiconductor miniaturisation technology and the use of electron beams to "write data on the chip substrates" allowed Hitachi to develop these RFID "powder" chips, which it hopes to bring to market within three years.
Anti-counterfeiting protection in admission tickets, gift certificates, and currency are among the applications under consideration, Pink Tentacle reports. ®
Similar topics