Scotland will enjoy the "world's biggest wave energy farm" after Scottish ministers agreed to fund a major installation at the European Marine Energy Centre in Orkney.
The £13m package will allow further deployment of Leith-based Ocean Power Delivery's Pelamis system, one of which is already installed and tested at the site, while providing cash for other "marine energy devices" to be put through their paces.
The Pelamis recently attracted the attention of the Portuguese government, the BBC reports, and last year a number of its tubular segments were shipped for deployment off the country's northern coast (see pic below). The plant will eventually provide juice for 1,500 homes.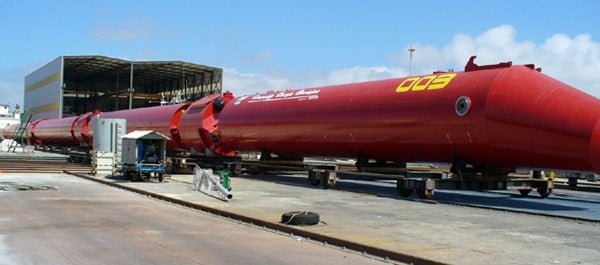 In announcing the Orkney funding, Deputy First Minister Nicol Stephen declared: "Today marks a vital milestone in Scotland's drive to be the world leader in the development of marine renewables."
Regarding the Pelamis system, which Scottish Power wants to extend to five installations powering 2,000 homes, he added: "This will be the world's biggest commercial wave project - significantly bigger than the major Portuguese scheme. Scotland has the potential to generate a quarter of Europe's marine energy and kick-starting the sector is vital if we are to create a significant industry based in Scotland and meet our long-term renewables targets."
Friends of the Earth Scotland chief executive Duncan McLaren weighed in with: "Wave and tidal power could supply a fifth of UK's electricity needs and Scotland is ideally placed to generate significant amounts of this pollution-free energy. It is critical that we see full-scale devices in our waters soon, otherwise the world-leading expertise Scotland has built up will rapidly depart these shores."
Ocean Power Delivery has in the past warned that "the industry could be forced to quit Scotland if there were no opportunities to use the technology closer to home", which apparently did the trick. The company's Pelamis "Wave Energy Converter" is, the blurb explains, "a semi-submerged, articulated structure composed of cylindrical sections linked by hinged joints".
It continues: "The wave-induced motion of these joints is resisted by hydraulic rams, which pump high-pressure oil through hydraulic motors via smoothing accumulators. The hydraulic motors drive electrical generators to produce electricity. Power from all the joints is fed down a single umbilical cable to a junction on the sea bed. Several devices can be connected together and linked to shore through a single seabed cable." ®