Comet-chasing spacecraft Rosetta has sent back pictures of its closest approach to Mars after it completed its flyby of the planet this weekend. The stunning pictures are the first taken by the Philae lander's instruments operating independently of the main craft.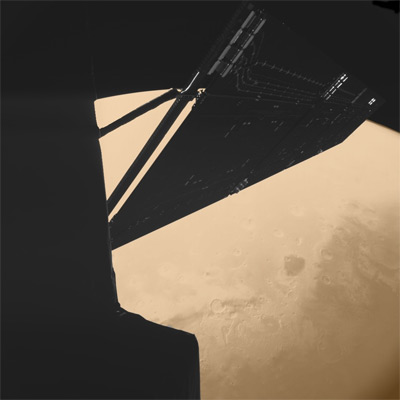 This shot was taken just four minutes before the craft reached its closest approach, at a distance of about 1,000km from the surface.
The flyby has been an important test run for some of the technology Rosetta is carrying to Comet 67P Churyumov-Gerasimenko. The craft is scheduled to arrive at the comet in 2014 when, all going well, the Philae lander will live up to the second part of its name and land on the comet.
The camera was not the only system given a test run. Mission managers also switched on the lander's ROMAP instrument, to collect data about the magnetic environment of Mars.
On board Rosetta, the Optical, Spectroscopic, and Infrared Remote Imaging System (OSIRIS) was also put to good use observing the planet. Its narrow angle camera in particular has sent back unusual pictures of atmospheric structures, thought to be either clouds or dust, on the red planet.
You can see more of those images on the European Space Agency's website here. ®