Reg Hardware Samsung HD TV winner 'well chuffed' with prize
More compos coming
Register Hardware reader Dave Page dropped us an email this week to show us just how good his brand new Samsung PS50Q7 50in plasma HD TV looks in his living room. Dave was the winner of last month's Register Hardware Samsung HDTV Competition, and we're pleased to report he's as pleased as punch with his plasma beast.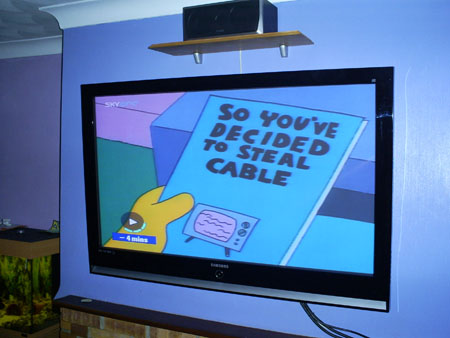 "Just though I should let you know, my Samsung telly arrived today and has already been put through it's paces with The Fifth Element - a superb film for testing the home cinema system!" Dave writes. "The picture is excellent even without an HD source to properly test it with."
Congratulations then to Dave, and to the ten runners-up, who'll all receive Reg T-shirts: Simon Wiggins, Mark Cooney, Andy Baxman, Iain Hull, Colin Ramsay, Adam Borrows, Andy Younie, Richard Rance, Tom Geraghty and Beverely Sawyer.
We commiserate with the many, many thousands of you who entered the competition but weren't among the winners. We've many more major prizes coming up in Register Hardware competitions, so there'll be plenty more opportunities to try to win.
And, last but not least, we'd like to say a very big thank you to Samsung for offering one of its splendid HD tellies.