Another annoyance - not specific to Asus exclusively, but still a massive pain - is the Function key in the bottom left of the keyboard, sitting where you'd expect the Control key to be. After all - which key are you likely to use most often? The one with semi-random vendor specific key combinations for adjusting things like the screen brightness or the one that's used for keyboard shortcuts that have been hard wired into you brain over the past twenty years?
Below the keyboard is a touchpad that's responsive enough, but you need to click the buttons quite hard for them to register, which can be a pain at times. In between the two buttons is a fingerprint reader. You can use the fingerprint reader to replace your Windows password - so you can use it to log on to your machine. It takes some practice to get used to the scanner, however. Registering different fingers took numerous attempts to get the pressure and speed of swiping right for it to be recognised.
The VX2 is available in two finishes - yellow and carbon fibre. Both are limited edition, but the carbon fibre model reviewed here only runs to 100 models - so if you want one you'd better be quick.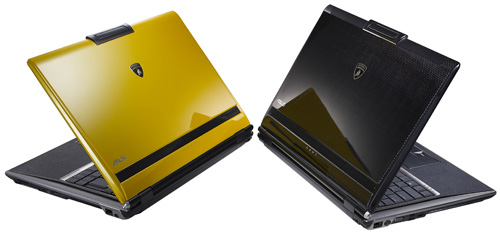 Completing the laptop/car hybrid look is the leather trim on the inside, which covers the palm rest at the front before making its way round the keyboard and finishing off at the back under the display. The yellow stitching at the edge is no doubt purely decorative, but it does make you wonder what would happen if you accidentally unpicked your laptop.
There's no doubting that Asus has packed some impressive, high-end components into the VX2, but with an asking price of £1,999 you're left with the impression that you're paying for more than just the bits inside. While it's a nice case with a very desirable badge on it, omissions such as no HD optical drive and poor games performance are disappointing.
Verdict
Style-wise it will no doubt appeal to the market that loves fast cars and other such desirable items. It's not badly specced - and there are some impressive bits in there. But it's not top of the range right across the board, which you would really expect when you're laying down the best part of two grand. Unfortunately it has too many niggles to make it an instant must-have.
Sponsored: Ransomware has gone nuclear

Asus Lamborghini VX2 laptop
Great specs, but it just doesn't quite have the wow factor you'd expect...
Price:
£1,999 inc. VAT RRP