This article is more than 1 year old
RIM BlackBerry 8800
A little tweak here and there makes a world of difference
Review RIM is on a roll with another new BlackBerry that leans more toward a consumer construct than the previous devices. It takes the form factor of earlier models, adds in a welcome tweak here... and creates a device that borrows from both the consumer and corporate worlds.
The BlackBerry 8800, of course, owes a lot of its design features to the model that preceded it - the Pearl 8100. Like its lower numbered sibling, the 8800 is finished off in sleek black with silver touches here and there that work well together.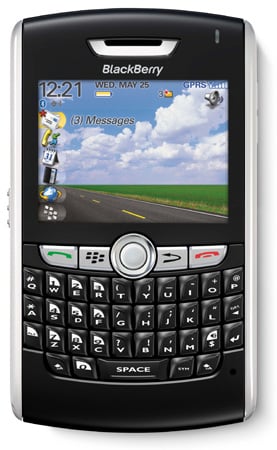 The 8800 ditches the side mounted click-wheel that previous models used in favour of the Pearl's trackball for getting around the interface. The ability to go left and right, as well as up and down, makes for a much better experience. It's much improved for jumping around webpages and finding your way through the user interface. When you've highlighted the item you're after, selecting it is simply a matter of clicking in on the trackball.
To the left of the trackball are buttons for dial and menu, while over the other side sits a cancel/go back button and hang up. The larger size of the device means the buttons are easy use. Below you'll find a full Qwerty keyboard which makes for much faster typing than on the Pearl which only has space for enough buttons to house half the number of letters and relies on software to determine what you're trying to type, similar to predictive text.
The keys are also slightly domed and angled away depending on which side of the keyboard they're located. So those on the left, for example, have a raised area predominantly in the bottom left hand corner, which makes for easier thumb typing and less mistakes due to hitting multiple keys. It still takes a little while to get up to speed with the keyboard, but you can pick it up and use it straight away without having to learn any new skills.
It's obviously wider than the Pearl - due to squeezing in a full Qwerty keyboard, but it's not much taller or thicker, measuring 11.4 x 6.6 x 1.4cm. It's piled on a bit more weight, but it's still easily portable at just 134g with battery. The increased form factor also means a larger screen can be incorporated, with a 2.4in landscape display offering a resolution of 320 x 240 pixels and capable of displaying 65,000 colours.