This article is more than 1 year old
Philips offers sensory delights for gamers
From hypnotic fireside flicker to a tranquil blue sky
Philips will this year release its range of amBX PC gaming peripherals, the company announced at its European Range 2007 event in Marbella, Spain this week. amBX will provide gamers with a full "sensory surround experience" by empowering game developers to use light, colour, sound, vibration and even airflow during gameplay.
The peripherals include a pair of left and right satellite speaker lights and sub-woofer, a pair of desk fans, a wrist "rumbler", and a directional wall washer light and controller unit. The left and right satellite LED lights will change colour and intensity depending on what is seen on the monitor. Lighting situations include rapid flashing, from white lightning to red-hot explosions, and more subtle changes in ambient lighting, from a hypnotic fireside flicker to a tranquil blue sky.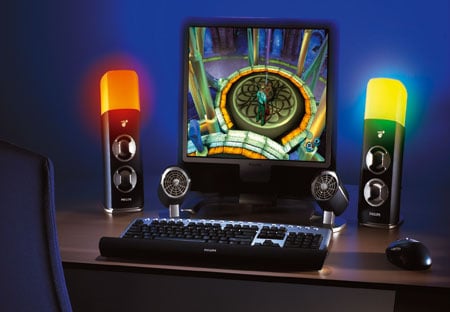 The satellite speaker lights and subwoofer also offer 160W multi-directional sound complete with dynamic bass boost. Compact desk fans allow both slow and fast airflow, up to 5,000rpm. With two integrated motor drives and variable rotation speed, the wrist rumbler enables gamers to actually feel movement in the game, experiencing the action through vibration.
Although it can take cues from the monitor, to amend the optimum result the system needs amBX-enabled (scripted) games, such as THQ's popular Broken Sword: The Angel of Death, Codemaster's Toca Racing Driver 3, and DEFCON from Introversion. Kuju's Rail Simulator, to be published by EA and Gas Powered Games' Supreme Commander, published by THQ, are both currently being developed as amBX games.
Philips offers four kits, including a €199 starter kit which contains a directional wall-washer light, controller unit and satellite lights; and a Pro-Gamer Kit which includes a directional wall-washer light, a controller unit, satellite speaker lights and sub-woofer; and an Extension Kit featuring a set of desk fans and wrist rumbler.
Philips is planning to introduce amBX for game consoles as well, but hasn't disclosed any details yet.