Sapphire Radeon X1550 graphics card
Groovy graphics card and a snip at £45
---
Review Since it bought ATI last year, AMD has been busy rebranding any number of chipsets and graphics chips in its range. Some of the instances make perfect sense while others are a cynical rebranding of an old chip.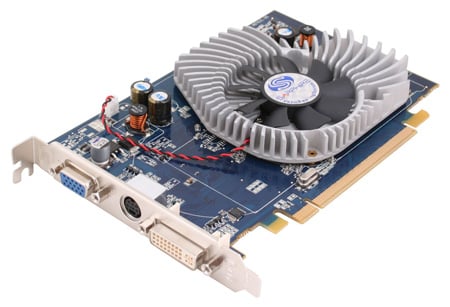 In the case of the Radeon X1050, it's an X550 under the heatsink, so it's clear that AMD wants the customer to think that they're buying a Radeon X1000 series chip when they're actually getting something rather older and less capable.
Then we come to rebranding that borders on the bizarre, and we hold up as Exhibit A the Radeon X1550, which is neither more nor less than a Radeon X1300. The graphics card that we're reviewing here is the Sapphire Radeon X1550 but as you'd expect the specification of the card is largely determined by the chip. What we have here is one quad from an X1800 so that's four pixel shaders and two vertex shaders. It has support for Shader Model 3 and DirectX 9.0c as well as ATi's hardware Avivo features.
There was talk that the X1550 would move from a 90nm process to 80nm but ATi's spec states that it uses '105, transistors on 90nm fabrication process' so why, you may wonder, has the chip been renamed? The closest we can get to an answer is that Radeon X1550 has unspecified enhancements that help to optimise it for Windows Vista, in conjunction with BIOS revisions on the graphics card. That message was delivered off the record and we're none too surprised as it sounds like hogwash, but as we tested the Sapphire with Windows XP SP2 it was all a bit immaterial.
Similar topics
Narrower topics