Sapphire Radeon X1550 graphics card
Groovy graphics card and a snip at £45
---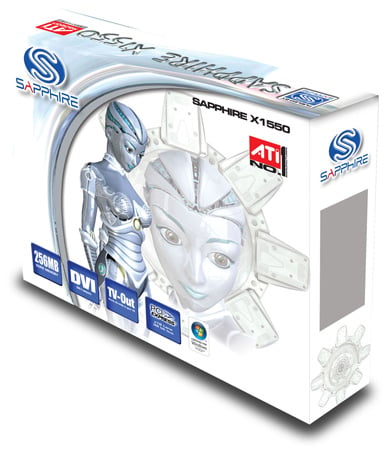 The core runs at 550MHz and uses a 128-bit memory controller to communicate with 256MB of DDR2 memory that operates at an effective speed of 800MHz. We've previously tested a Sapphire Radeon X1300XT that used DDR3 memory with a speed of 1375MHz so this X1550 is actually quite conservative, but all is explained when you see the £45 retail price. If we accept that Radeon X1050 has no place inside a current PC, unless you simply want the cheapest possible way to support dual displays, then the X1550 is clearly positioned as the cheapest 'proper' ATI graphics card in the market, and it's £10 cheaper than the GeForce 7300GT.
Before we put them head-to-head let's take a look at the Sapphire package, which is surprisingly comprehensive. The software consists of PowerDVD 6 (stereo version) and Just Cause, while the bundle of cables is positively generous. There's a length of s-video cable, a composite-video cable, an s-video to composite adaptor and a splitter cable that supports component-video.
The heatsink is a finned aluminium affair that covers the four memory chips on the face of the card, but it leaves the memory on the back of the card uncovered. It would be unfair to call the fan loud, but it seems to be louder than necessary as it spins rather fast and keeps the X1550 very cool.
We tested the graphics cards on an Asus P5N32-E SLI motherboard with an Intel Core 2 Duo QX6700 processor, 2GB of Corsair memory and a WD740 Raptor hard drive, using Catalyst 7.1 for the ATI cards and Forceware 93.71 for the 7300GT. ATI cards? Yes indeed, because we dug out an Asus EAX1300Pro from the review kit on the shelf, which currently retails for the same £45 as the Sapphire X1550 while, we imagine, stocks last.
Similar topics
Narrower topics