Sapphire Radeon X1550 graphics card
Groovy graphics card and a snip at £45
---
The EAX1300Pro was an unpleasant piece of hardware that suffered from terrible artefacts when it was under load. While its test results don't look too shoddy it is completely beyond the pale when it comes to gaming. The 7300GT had the edge on the X1550 in all of our tests but the difference wasn't too noticeable on screen. You can use either graphics cards to play intensive games such as Far Cry and FEAR with good quality and at decent resolution, and there is no doubt that both cards fully support Windows Vista Premium.
3DMark06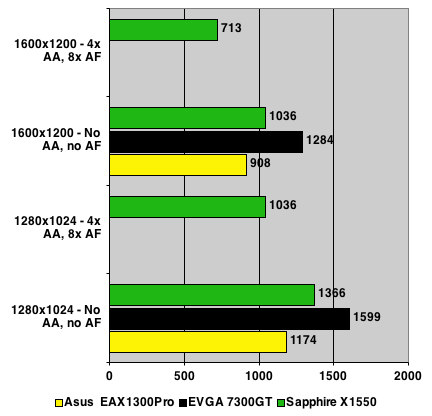 We found that the X1550 could be overclocked from 550/800MHz to 640/920MHz which boosted performance by 15 per cent. At 650/936MHz the image quality deteriorated. The 7300GT could be overclocked to raise performance by ten per cent so the gap is somewhat narrower than it appears however the 7300GT remains the faster of the two chips.
Far Cry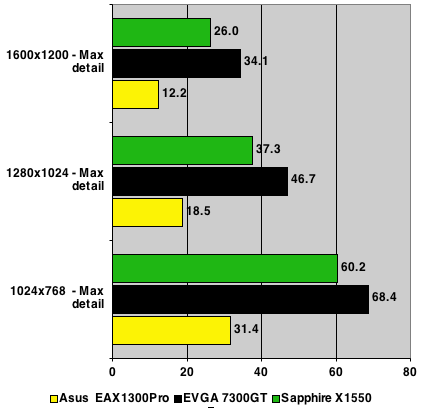 The Sapphire X1300 XT with DDR 3 memory that we mentioned earlier was tested some time ago on a different test PC so we haven't included the test results. However, one figure jumps off the page: the 3DMark06 score of 2,529. That eclipses either of these DDR 2 cards, so the key point about the X1550 is that it delivers satisfactory performance at an incredibly low price. If you were choosing a graphics card for gaming then it's a safe bet that you would choose neither of these options, but that misses the point entirely. On this showing the Radeon X1550 is the cheapest proper graphics card that money can buy, and for the time being Sapphire and AMD can consider it's a job well done.
F.E.A.R.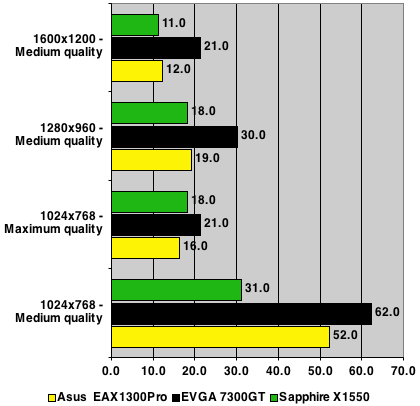 Verdict
Sapphire has done a fine job delivering a DirectX 9.0c graphics card for £45 and the fact of the matter is that the Radeon X1550 is far more relevant to the man in the street than the long-awaited R600 will ever manage.

Sapphire Radeon X1550 graphics card
The Radeon X1550 is not just a renamed X1300. You also get a new logo.
Similar topics
Narrower topics