A chilling illustration of the perils of copywriting by committee comes to us from West Sussex County Council human resources department. The engine of UK south coast municipal governance is advertising for two "enthusiastic and committed" individuals to coordinate racist incidents across the county.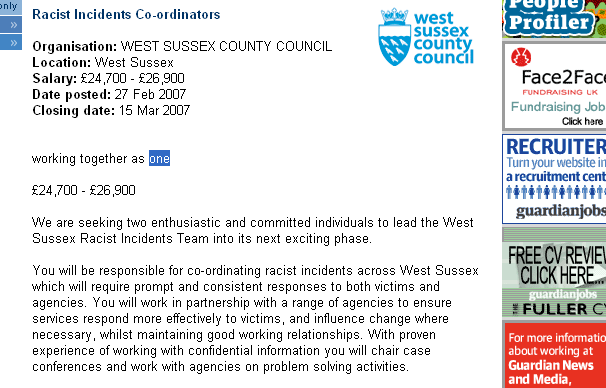 The council's groundbreaking experiment in public sector bigotry will see the duo given free reign to "influence change where necessary". Prospective applicants can surely expect to be quizzed on their skills in starching white sheets, CB radio networking experience, and knot-tying badge history with the boy scouts.
Indeed, as our West Sussex recruitment correspondent Matthew notes, coordinating racist incidents is not a job for the casual Anglo-Saxon supremacist. He said: "I applied but my racism organisation skills are limited to calling a friend of mine a cheating mick over a game of poker so I don't hold out much hope.
The council new team of racists will be also subject to a criminal record check, presumably to establish their credentials in the criminal pursuits of cock fighting, cross burning and country music. ®