Updated Netizens have reacted with a mixture of horror and disbelief to a story which recently appeared on Galway First entitled "Lonely man brought donkey to hotel room, court told".
We say recently, because the stampede of surfers rushing down to check the outrage for themselves appears to have brought down galwayfirst.ie.
No matter. Here's a handy grab of the orginal story, and the full text below: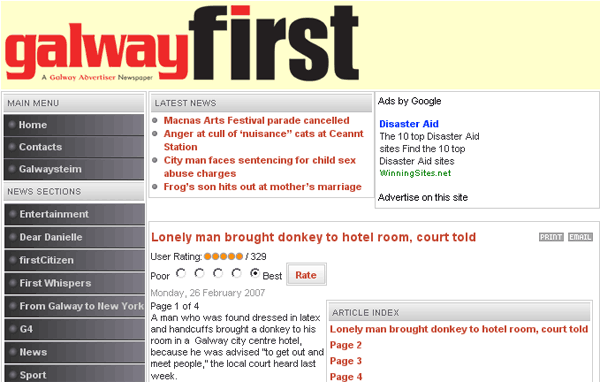 A man who was found dressed in latex and handcuffs brought a donkey to his room in a Galway city centre hotel, because he was advised "to get out and meet people," the local court heard last week.
Thomas Aloysius McCarney, with an address in south Galway, was charged with cruelty to animals, lewd and obscene behaviour, and with being a danger to himself when he appeared before the court on Friday. He was also charged with damage to a mini-bar in the room, but this charge was later dropped when the defendant said that it was the donkey who caused that damage. Solicitor for the accused Ms Sharon Fitzhenry said that her client had been through a difficult time lately and that his wife had left him and that his life had become increasingly lonely.
"Mr McCarney has been attending counselling at which he was told that he would be advised to get out and meet people and do interesting things. It was this advice that saw him book into the city centre hotel with a donkey," she said. She added that Mr McCarney also suffered from a fixation with the Shrek movies and could constantly be heard at work talking to himself saying things like "Isn't that right, Donkey?"
Supt John McBrearty told the court that Mr McCarney who had signed in as "Mr Shrek" had told hotel staff that the donkey was a family pet and that this was believed by the hotel receptionist who the supt said was "young and hadn't great English."
Receptionist Irina Legova said that Mr McCarney had told her that the donkey was a breed of "super rabbit" which he was bringing to a pet fair in the city. The court was told that the donkey went berserk in the middle of the night and ran amok in the hotel corridor, forcing hotel staff to call the gardai.
McCarney was found in the room wearing a latex suit and handcuffs, the key to which the donkey is believed to have swallowed. He was removed to Mill St station after which it is said he was the subject of much mirth among the lads next door in The Galway Arms.
He was fined €2,000 for bringing the donkey to the room under the Unlawful Accommodation of Donkeys Act 1837. Other charges were dropped due to lack of evidence.
---
Astounding. We emailed Galway First to request confirmation of McCarney's fine and to ask for Ms Legova's phone number. The editorial team has not yet replied. ®
Update
We're obliged to Galway First's Keith Lynch for getting back to us this afternoon. Here's his response:
Sadly Ms Legova has now gone into hiding following the incident. The man at the centre of the case, Mr McCarney was heavily fined and is rumoured to now be bankrupt.

But, most importantly, we have highlighted a serious issues. Donkey crimes like this are all too common in Ireland's west. The gardaí have intensified their efforts to stop this horrible abuse. We were just glad we could bring it to the people.