Review The iTube is a valve amplifier - yes valves, those old-fashioned glowing things that TVs used to have - with an iPod dock unit, all encased in chrome and black metal. It's really two separate systems: a power amplifier, which is the analogue bit, and the dock.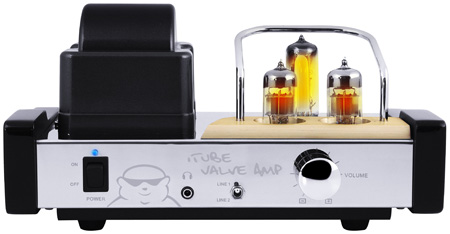 The amplifier has two sets of RCA/phono line inputs and some speaker outputs. On the front panel is a toggle switch that selects one of the two inputs, a power switch and a volume control. The dock unit has an iPod dock connector and bracket on the top. The connector can be moved backwards and forwards to allow for different sized iPods. On the back of the dock there's a composite video, s-video out and the RCA audio sockets.
The unit will work with any speakers between 4 and 8 ohm, though it's possible to purchase Fatman speakers with the iTube as a package. Though only rated at 13W, the system delivers quite a punch with good bass and high-end reproduction. Indeed, it's surprisingly good for such a small system. The amplifier has a reasonable footprint: 34 x 29 x 16cm, while the dock unit is 15.5 x 13 x 12.3cm. The dock weighs 4.3kg - the amp is 6.7kg.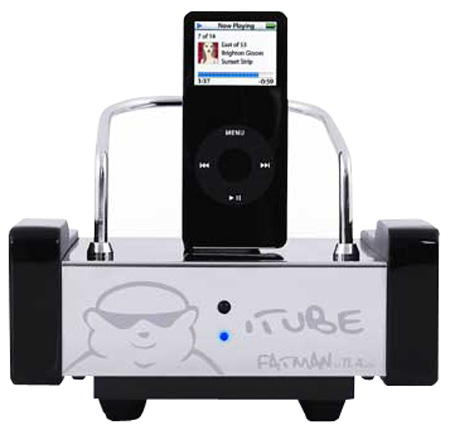 Valves virtually disappeared from the Hi-Fi scene, but have been coming back as they generally provide a warmer sound than silicon. Of course, a badly designed valve amp is going to sound just as bad as a badly designed transistor version, but Fatman - or TL Audio, to be precise - has been designing and manufacturing valve-based audio products for more than 13 years and is well known in the professional music production market.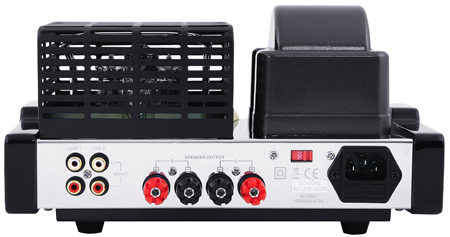 Verdict
This product is definitely home-friendly, it looks nice and the glowing valves complement the shiny chrome finish - or maybe the chrome finish complements the glowing valves. Out of the box, the valves are protected by a black metal casing that's slotted so they can be seen, but can be removed to offer optimal valve appreciation. Handy this, since the middle, larger valve has a centre section that shows the power output on the left and right channels, and which glows in a bluey-green tint. The valve aspects make this a truly retro device, the iPod dock makes it very geek retro.

Fatman iTube amplifier
Good sound from a good-looking iPod-friendly amp that combines analogue and digital in retro style