Electric cars may not be solution to all world problems
Flame storm fails to alter reality
---
Recent Reg coverage of the green motoring field has been sternly criticised by some for too brusquely dismissing the fully-electric car, so we're back today with a look at battery-powered wheels.
Yesterday's piece said: "Unfortunately, the limits of current battery technology mean fully-electric vehicles with petrol-car performance aren't on the cards for now. And a plug-in hybrid is distressingly expensive, as it requires a big, capable battery pack to be of any use."
The various sizzling flames this drew were usually based around the Tesla Roadster, an all-electric sports car currently under development. In essence, it's a Lotus Elise with a massive lithium-ion battery pack instead of an engine and fuel tank. The Tesla's best stat is its neck-snapping acceleration, 0-60 mph in "about four seconds" which would certainly leave most petrol cars in the dust.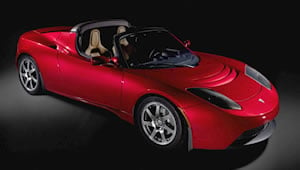 They might not stay there for long, however, as the Roadster tops out not far north of 130mph, about the same as a £17,500 five-door Vauxhall Astra hatchback. That wouldn't normally be a reasonable beef to raise against the Tesla – not many people ever drive so fast – but the Tesla is squarely in the supercar market with its sexy Lotus body, two seats, tiny boot and $100,000 price tag – almost distressingly expensive, in fact. A petrol car in this bracket, such as the Porsche 911 Carrera S ($92,000-$96,000) can reasonably be expected to show top speeds around 180mph on the test track. So the Tesla offering doesn't, actually, deliver petrol performance – even in pure zoom-zoom, and that's the Roadster's best thing.
It also has practical issues, much more serious than a fairly irrelevant inability to go at wildly illegal speeds. The Roadster is predicted by its makers to achieve between 200 and 300 miles per battery charge. One must bear in mind that this is a manufacturer stat on a lithium-ion battery pack, much like standby/talktime for a mobile phone. However, let's assume that in this case the figures are completely correct. A competitor like the Porsche 911 does considerably better, going anywhere from 290 to 425 miles on a tank of petrol, but this isn't a massive thing compared to saving the planet.
The big snag is what happens next. The Porsche driver fills up in minutes and is on his way again. So does the putative hydrogen or ethanol-fuelled driver of the future, when hydrogen or ethanol might actually be available. Even a mobile-phone user can make calls while plugged in, or put in a fresh battery. But the Tesla Roadster isn't going anywhere or doing anything for a minimum of three-and-a-half hours while it charges up again. You aren't going to swap a 900lb battery easily.
At least electric connections are already widely distributed, unlike hydrogen or ethanol stations. Garages and motorway service areas wouldn't need a huge infrastructure investment to offer electric charging, though they'd need an awful lot more forecourt space if electric cars or trucks ever began making long journeys en masse.
But not many longhaul motorists are going to want to spend as much time sitting on forecourts charging up as they do on the road, so in real life most electric vehicles are going to be charged overnight. Realistically then, based on the Tesla specs, electric cars are mainly useful for out-and-back trips of 100 miles, or journeys of 200-odd miles followed by an overnight stay.