Britain's Tories love open source (true)
All aboard the Osbornesource bandwagon!
---
George Osborne, Britain's shadow chancellor of the exchequer, has stuck the Conservative Party's banner firmly on the internet bandwagon.
Speaking at the Royal Society of Arts yesterday, he applauded the "democratisation of information" brought about by the internet.
And he championed the Open Source movement by stating how the British government should save money by ditching its conventional software licenses.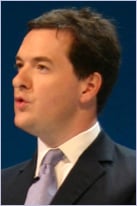 Osborne suggested that the principles of transparency used in open source software development could also be applied to political discourse and the workings of the establishment.
"We need to harness the internet to help us become more accountable, more transparent and more accessible - and so bridge the growing gap between government and governed," he said.
However, one Open Source guru who is advising Osborne told The Register that he couldn't speak to us on the record for fear of losing his new-found links to power. It was too great an opportunity for the Open Source movement to pass up, he said.
Bottoms up
According to Osborne, the internet phenomenon was "rapidly eroding traditional power and informational balances".
It is an alluring idea, and one that enamours British politicos, boxed in as they are by spin and secrecy.
Osborne described the internet ideal as well as any suited-and-booted revolutionary - with a touch of condescension: "The Internet is like a child pushing at boundaries of authority and challenging the established way of doing things."
"The challenge is for the pushed to resist the urge to push back - to regulate and legislate; to try to tame and control," he said, in contrast to the Labour government's instinct to regulate the internet, and suggestion that the freedom child, since having been proven so effective on the web, should be shown upstairs: "Top down politics is no longer sustainable in a bottom-up age."
The internet phenomenon has inspired in Osborne three policy ideas, he say. The first is the democratisation of information, in the name of which his Government Spending Transparency Bill was being pushed through the legislature. This would involve the details of government spending to be published online for all to see. But his office said just what information was published would be limited with the commercial in confidence arrangements it struck with its suppliers.
Similar topics
Narrower topics