This article is more than 1 year old
Tucker the f**ker claims blogger book deals are 'easy'
Er, if you can write
SXSW The last thing a blogger wants to hear is that it takes talent – or at least hard work – to turn online ramblings into a career. And so SXSW attendees clenched their genitalia when debauched goat boy Tucker Max revealed that few bloggers have the right stuff to merit widespread attention.
"The most important thing is having good content," Max said, during a panel session here. "All these people write to me and say, 'I have great content' but it's dog shit."
Max discovered that decent blog postings can pay after converting material on his tuckermax.com web site into book form and then ending up with the bestseller "I Hope They Serve Beer in Hell." The book and web site document Max's adventures with booze, AstroGlide and older women at law firms, among many other things. The author has transformed into a type of fraternity hero, who proved that vomit on your pants can put food on the table.
Unlike many bestsellers, Max did not benefit from a flurry of reviews or a big splash when his book first appeared.
"When I say no book reviews, I mean no fucking book reviews," he said, adding that he later got lucky with one review "because my agent was sleeping with some girl at the New York Times."
The lack of traditional plugs forced Max to promote his web site and book via the internet. He would create fake e-mail accounts and then bombard entertainment sites and news aggregators with links to his material.
"You turn your nose up, but there is a reason that I'm sitting on this panel and you're not," he said.
Now, with his first book having been out for more than year, Max still clears close to 2,000 book sales a week – something unheard of for such an old title. Word of mouth and Max's brash marketing techniques continue to help sales.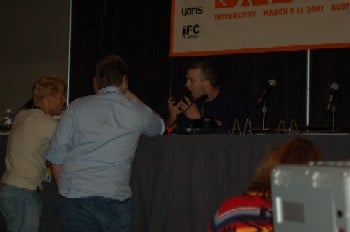 Tucker Max and Groupies
The writer has started up a company to help turn other web type people into authors and serves as a type of agent, making contacts for these writers.
Max argued that publishers "are starved" for interesting stories. Given such a climate, it's relatively easy to turn your blog dump into a publishable book.
"If your stuff is good, it's not hard to sell it."
Of course, there's not much good stuff to go around as evidenced by people filling their online diaries with stories about the funny thing their cat did yesterday or how they bought a new pair of pants. Close to 80 per cent of the people in the audience at Max's SXSW panel claimed to have a blog.
While almost always boastful, Max admits that his writing is not so hot. He's just able to tell a decent story and spends a great deal of time updating his site with lengthy, lurid tales.
Max may have to concentrate on his agent style business moving forward because he's running out of material. He's received a $300,000 advance for a second version of his drunken, sexual exploits – a tome that will contain the stories not ripe enough for the first cut.
"People think I am hanging from a chandelier drunk every night," he said. "That was me at twenty-six."
Max can only find one day a week now in which to get funky.
"I have grown up," he said. "You just change as an artist." ®