Apple may be about to equip its Mac Pro desktop with Intel four-core Xeon processors, if an inadvertent posting on the company's UK online store is to be believed.
The Mac maker's taken the offending entry down now, but not before a number of websites spotted it overnight. A search for 'Mac' yielded a number of entries, one of which mentioned the Mac Pro now with "quad-core or eight-core processing power".
The Mac Pro currently ships with a pair of dual-core Xeons, allowing Apple to claim the machine contains four processing cores. Substitute the dualies for quad-core chips and you have an eight-core Mac Pro.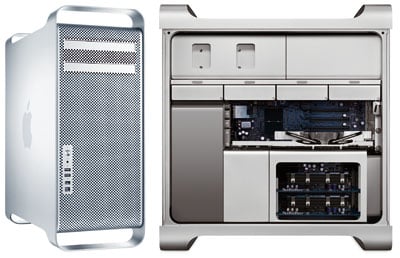 Intel last week introduced low-power quad-core Xeons, arguably more attractive parts for a two-CPU desktop machine given the cooling requirements of the existing Xeon quad-cores.
Is Apple about to use these new chips? Possibly, but the Apple Store UK erratum states the eight-core machines are available within 24 hours, which clearly is not the case. Still, cooling technology and pricing permitting, moving up to quad-core CPUs is the next logical step for a Mac Pro upgrade. The machine has not been updated since its August 2006 introduction.
Sponsored: Ransomware has gone nuclear