A monkey hanger's guide to Net Neutrality
El Reg goes Westminster
Yesterday, Westminster eForum staged the first debate in the UK on "Net Neutrality" - chaired by former DTI minister Alun Michael and Shadow DTI Charles Hendry. El Reg gave a brief presentation. Here it is, with selected highlights, and a collection of external links for further reading.
Good morning. For seven years, until last year, I reported from Silicon Valley - I've reported on this issue on both sides of the Atlantic.
It's one of the strangest, and perhaps the most interesting, stories I've encountered in 15 years of technology journalism.
I write for The Register, which is a successful British internet business, with four million readers and over 30 staff. Because we're a pure internet business, and a pure content business, the fears of "Neutrality" campaigners affect us more than anyone else. We have no print publications or conferencing franchise to fall back on. Our bits must get through!
So vertical integration abuse - discrimination and pricing - affect our bottom line. But are these fears rational?
I searched long and hard for a historical precedent to "Net Neutrality".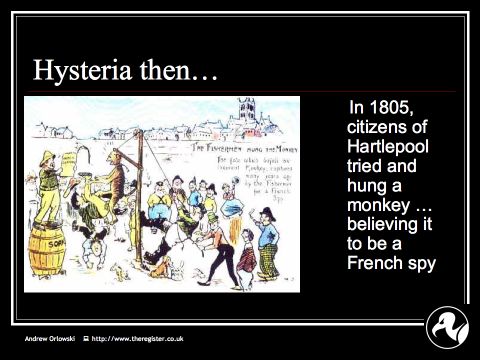 During the Napoleonic Wars, 1805, legend has it that citizens of Hartlepool tried and hung a monkey … believing it to be a French spy.
Last year, the US Congress almost "hung the monkey", too.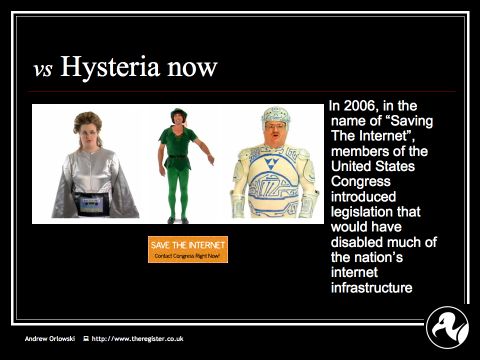 In the name of "Saving The Internet", members of Congress tabled legislation that would have disabled much of the nation's internet infrastructure.
How did this happen? I'll try and explain.