How could so many people get it so wrong?
As Ofcom correctly recognises, there are very different market conditions here in the UK to the United States. The concerns expressed in "Save The Internet" were based on experience of local cable monopolies, and a confused and contradictory history of regulation.
But "Save The Internet" wouldn't have reached Congress without several local factors, too.
The campaign reflects three unique things - which make it so interesting for me.
It reflects popular disillusionment with American institutions: the regulator, the Federal Communications Commission, was not felt to be trusted.
Paranoia and conspiracy theories play a large part in the American political dynamic, as Richard Hofstader recognised in his Harpers essay in 1964, entitled The Paranoid Style In American Politics.
Conspiracy theories have always thrived in digital culture too - the internet is full of them.
But while the good people of Hartlepool 200 years ago may be forgiven for not knowing what a Frenchman looked like - through lack of information - these conspiracy theories flourish because of a a super-abundance of information.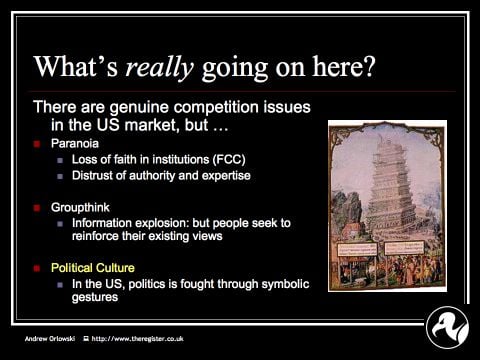 In the internet age, people turn to a narrowing spectrum of information sources to reinforce their views.
This leads to problems.
American politics is fought throught symbolic gestures: prayer in schools, for example, or the display of the Ten Commandments in public buildings.
"Net Neutrality" became one of these symbolic gestures - a proxy war for progressive activists who had lost faith in the Department of Justice's Anti-trust Department, and the ability of the FCC to regulate effectively.
Paranoia and Groupthink did the rest.
It's a pity we don't look at some of the real, and profound problems with our computer networks.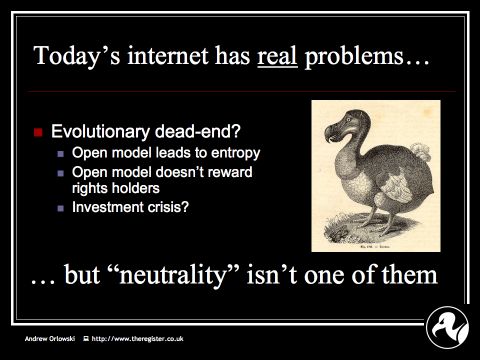 There are several of these.
With no "internet" and a network of networks, work to fix video and voice is slow.
The author of End-to-End Arguments in System Design David Clark, now believes: "We are at an inflection point, a revolution point - we might just be at the point where the utility of the internet stalls - and perhaps turns downward."
Most of the bandwidth laid lies unused - because it's not economically viable to use it.
An internet that fails to raise revenues necessary for continued investment will die - another model will take its place.
All of these concern me much more than "Neutrality".
Thank you for your time. ®
Further Reading
Crowcroft
Kahn
Bennett
Geddes
Farber, Faulhaber, Katz & Yoo
By this author: