Ten reasons why you should buy a Mac
Time for a shiny white box?
6. Bundled apps good, nagware bad
Macs come bundled with software that's generally worth having - apps for creating DVDs, editing videos, managing your music collection, taking charge of all your digital photos and - best of all - making comic strips. Plasq's ComicLife - beloved of blogs keen to do cool illustrations - makes setting up panels, KERPLOW!s, SPLAT!s, GAZE INTO THE FIST OF DREDD!s a doddle. Or indeed a doodle.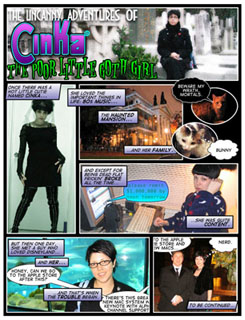 Of course, Apple implies its bundles don't contain time- or feature-limited apps, but that's not entirely the case: see how long the bundled copies of Pages and Keynote last. However, I've never had a Mac that shipped with anti-virus nagware that kicks in if you don't subscribe three months' after your 'free' copy was activated and bothers you forever...
7. Sleeping and waking
MacBooks go to sleep pretty quickly when you shut the lid. Disable Mac OS X's Safe Sleep mode - the contents of the machine's memory are saved to disk just before sleep - and they'll doze off even faster. But that's not the good bit. The good bit is recovering from sleep just by lifting the lid again. There's no need to press the spacebar or power key - it just wakes up immediately, ready for action.
8. Bill Gates ate my GUI
Yes, all the neat tricks Microsoft's been claiming give its Windows Vista that oh-so-cool 'wow' factor have been on the Mac for ages. Flip-through-your-windows technology. Smart folders. Bundled email, calendar and contacts apps. Translucent windows. Buttons that look shiny. Pop-up on-screen applets. Automatic data encryption. Bundled chess game. Been there, seen it, done it.
And there's no Mac OS X Basic with all the cool stuff turned off, thank you...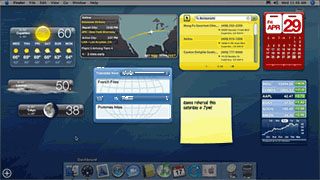 Mac OS X circa April 2005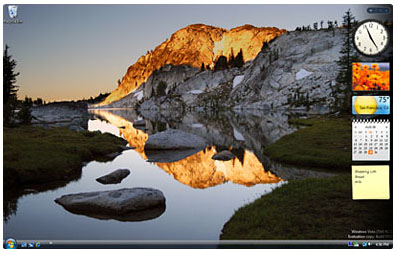 Windows Vista circa March 2007
9. Still need Windows? No problemo
Apple has Boot Camp, Parallels has Parallels Desktop, VMWare has Fusion - and they all let you run Windows on an Intel-based Mac. Boot Camp dedicates the hardware to Windows, while the other two apps let you access Windows apps whenever you're working in Mac OS X, ready for cutting and pasting and everything. Just watch out for those sneaky Microsoft end-user licence agreements that forbid installation on virtual machines in some case, OK?
10. Smug-tastic
It's impossible to feel smug after buying a PC. Can't be done. Won't ever happen. Never going to be a factor. But then no one ever got fired for buying Lenovo. Or something like that...