Get it while you can, folks: everything you need to install a pirated version of Adobe Acrobat 7.0 Professional on your Windows-based PC.
The package, complete with a serial number, comes - wait for it - courtesy of the home page of the Chao Family Comprehensive Cancer Center at the University of California's Irvine campus.
(Click on the pic of the building with the green tiles and it's yours. UPDATE: The warez goods have been removed following the publication of this story.)
It's a little difficult to estimate the value of this deal. Although highly functional, version 7.0 is slightly out of date. Version 8.0 lists for $449 on Adobe's website, so we're thinking plenty of people will consider it a solid enough bargain.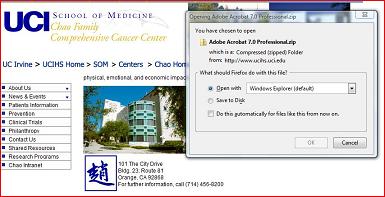 We asked a UC Irvine spokesman how such an offering could have been made available on a university website. He said this was the first he heard of the transgression, so naturally he had no answer.
He vowed to call the site's webmaster.
With our find in the open, aficionados of warez don't have long to jump on this opportunity. That is unless the Cancer Center decided to turn into a software shop. ®