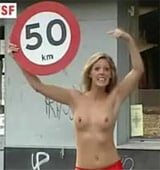 NSFW Every country has its own particular method of tackling the menace of speeding motorists: in the UK, it's millions of "safety cameras" dishing out fines and penalty points by the bucketload, while in Iraq they still prefer the traditional roadside bomb method for calming Baghdad's traffic.
Over in Denmark, though, the powers that be decided to deploy the nation's best assets to address the nation's rather casual attitude to excess velocity. Step forward the "Bikini Bandits" - "a specially-trained team of enthusiastic young women not afraid to do whatever it takes so that motorists pay more attention to the speed limit".
In fact, so successful did the Bikini Bandits prove that they pretty well brought Copenhagen to a standstill, as the illuminating video shows.
Good show. According to the blurb, the video was "made by the Danish Road Safety Council and aims to draw attention to speed signs and speed limits in Denmark". It adds: "Despite a decrease in speed violations, seven out of 10 Danes still exceed the speed limit on a regular basis. Respecting the speed limits is the simplest way to save lives." ®
Bootnote
Thanks to Dirk Koopman for the busty tip-off. For more hot Bikini Bandit action, try the US take on the scantily-clad vixen concept.