Palm will be bringing Windows Mobile 6 to its Vodafone-branded Treo 750v and its own version, the 750. As a bonus, upgraders will also gain HSPDA high-speed downloads, network permitting.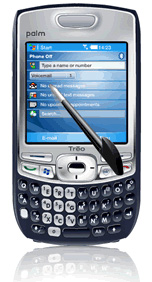 Of course, Palm didn't say when the upgrade will be made available - it just noted the software will be ready to download "later this year", so we could be waiting nine months for it.
Still, the addition of HSDPA support is a boon, though - again - Palm didn't say what download speeds the device will range to: 1.8Mbps, 3.6Mbps or 7.2Mbps. The 750 already supports 3G UMTS technology, along with GSM/GPRS/EDGE connectivity.
More to the point, perhaps, it didn't say whether the upgrade will be free - or come at a cost to the consumer.