This article is more than 1 year old
Show me the way to go home: GPS on test
Ten gadgets to get you from A to B
Group Test Gone are the days of thumbing through your dog-eared 1988 AA route map while trying to navigate the fast lane of the M25 in search of your pal's new London pad. For now is the time of satellite navigation.
Over the past three years, the market has been flooded with a vast array of navigation units employing the Global Positioning System (GPS) technology to get you from A to B as quickly and - hopefully - as safely as possible. And if you want to know which is best for your needs, this little lot should hold the answer...
Magellan CrossoverGPS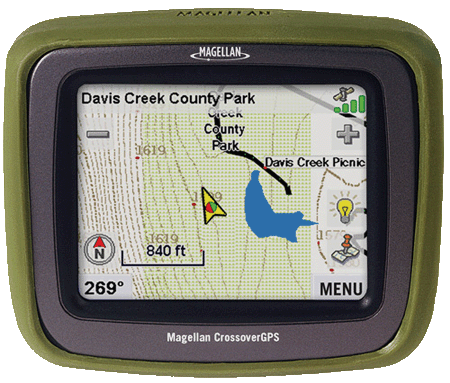 Satellite navigation and outdoor gadget specialist Magellan has finally followed the obvious route and launched the CrossoverGPS, a go anywhere at any time navigation unit that laughs in the rain-sodden face of the great British weather. The rugged, yet sleek and pocket-sized Crossover means you won't get lost whether you're travelling by car, boat or foot. Weighing in at a middling 235g, the Crossover is IPX-4 waterproof with a battery life of around eight hours and a clear and bright 3.5in touchscreen with good on-screen graphics.
Pre-loaded with street maps for Great Britain and Ireland you can upload the whole of Europe via an optional SD card for driving with street-by-street visual and voice guidance, live traffic reports, multi-destination routing and SmartDetour, which automatically routes you around slow motorway traffic. There are millions of points of interest (POIs) to keep you entertained, with interactive icons for instant routing to where you want to go. There's a decent music player and photo viewer too.
The Crossover's unique selling point, though, is its versatility. Alongside the street and topographic maps is a boating guide offering latitude and longitude co-ordinates, with the relevant nautical mode switching the read-out to nautical miles and knots. Magellan has also thrown in a compass and altimeter for any less conventional route you may choose to take - colloquially known as 'the shortcut'.
Magellan CrossoverGPS
---
Best for outdoors
Magellan takes the satnav mantra of 'go anywhere' to the limit with this all-terrain, all-weather wonder
TomTom One Europe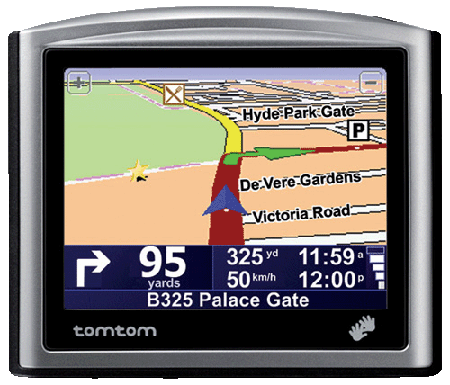 TomTom has really hit the proverbial satnav nail on the head with its range of simple to use and good looking - if a little bland - GPS units, but for the average commuter operating on a budget there's nothing better than the TomTom One Europe.
At just 174g it's feather light and easily small enough to slip in the pocket - skinny jeans notwithstanding. The One Europe - there's a non-Euro map version available for a few quid less - holds a puny 32MB of on-board memory, but uses an SD card to store its bountiful maps. There are no buttons beyond the power key, the TomTom relying instead on that very good 3.5in touchscreen for all your menu navigation needs.
The interface is clean and easy to use, the screen not too sensitive, and the maps clear, concise and easy to refer to while driving. Bluetooth 2.0 is included for hands-free phone calls, and there are thousands of POIs for instantly finding petrol stations, banks and other essentials. The budget price does show up with a lack of text-to-speech functionality, so it's basic voice instructions rather than road names read out to you. Also missing is any media playback paraphernalia, but that's probably a boon considering the less than ample two-ish hour battery life. And in all honesty, do we really need any of these extras anyway?
In use the One Europe was almost faultless, picking up the satellite signal quickly, giving with clear and concise directions, and performing pretty speedy route recalculations in the face of nasty traffic or an unexpected diversion. Great mapping, insultingly easy to use interface and a price that can't be beaten. Budget satnav doesn't get any better.
TomTom One Europe
---
Best for budget
Superb price, superb functionality, superb looks. So, superb then