Bloggers mourn bald, rich Fiorina
'I shaved myself for Britney'
April Fool The blogger nation has called for a shared day of silence after former HP boss Carly Fiorina jumped the shark in her bid for the US presidency.
Bloggers woke up Sunday to horrific pictures of a bald, wild-eyed Fiorina plastered all over the internet. The executive gave up her well-dressed, well-groomed image in a sympathetic nod to sexpot-turned-Betty Ford impressionist Britney Spears. (No word yet if Fiorina's carpet matches the drapes.) Fiorina's brash move follows a series of thunderous attacks against campaigning rivals such as Hilary Clinton and Rudy Giuliani.
"Britney has spent years inspiring this nation with her elegant thigh highs and down-home talk," Fiorina told The Register. "Every time I think about what hacks like you have done to her, I vomit tears. Let our shaved heads serve as a reminder of your cruelty and of she-power."
Bloggers the world over had hoped President Fiorina would give them a voice beyond their family and pets. Fiorina has pledged to make blogging mandatory as part of her "Literacy through Technology" push. Under this plan – to be funded by News Corp. and Google rather than taxpayer dollars – every American would be required to set up a MySpace page, read ten blogs a day and search for at least five American-made products, excluding teledildonics equipment and crystal meth.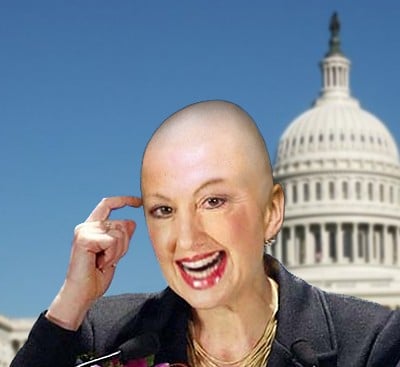 It's Not a Bald Spot. It's a Solar Panel for a Sex Machine
The widespread enthusiasm for Fiorina's initiative crumbled once pictures of her shiny scalp hit the web. Thousands of bloggers were consumed by the need to ridicule Fiorina, tearing them from the foundation of goodwill that unites all web authors.
"I'm beyond appalled by their behavior," said futurist Paul Saffo. "The internet is not about bad-mouthing someone just because you can and, even worse, doing it behind the guise of a fake user name. It's about bringing Heideggerian authenticity to the virtual space through peace, love and Ethernet."
Leaders of the blog movement have proposed April 15 as the day of silence meant to contemplate Fiorina's demise and have set up a wiki to debate the merits of choosing that day. IBM has stepped in to set up a new standards committee BLOGORRHEASISDSL inside of Second Life to help lay the groundwork for the day of silence infrastructure. Critics have suggested April 15 will come and go with no day of silence resolution in place. IBM has countered by saying it has a mashup contingency plan where bloggers will be able to combine their favorite music, calendars and local traffic information to help them decide about shutting up.
Sympathetic blogger Sun CEO Jonathan Schwartz offered to donate his ponytail to Fiorina should she choose to re-hair in short order.
"I don't need some Wesleyan grad's handouts," Fiorina said. "I'm bald, bold, beautiful, smart, savvy and rich beyond belief. Hair or not, there's no way in hell that Clinton, Obama or anyone short of Bill Gates will be able to outspend me along the campaign trail. My book Tough Choices is selling faster than I ever imagined, and I put my entire severance package into HP stock. I'm rich." ®