This article is more than 1 year old
Griffin Elevator laptop lift
Put your notebook screen on the right level
Review Griffin calls the Elevator a "space-saving laptop stand". I'm not sure about "space-saving", but it's unquestionably something you might very well want to sit your notebook on, particularly if your neck's giving you grief.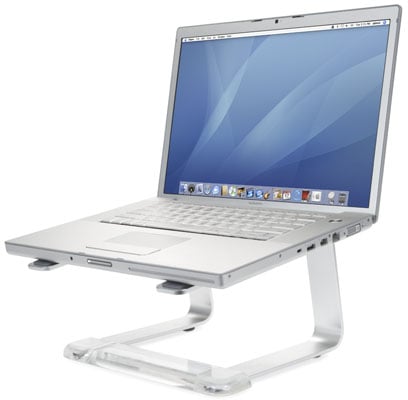 The elevator comprises a pair of U-shaped angular metal bars and a clear plastic base into which both bars slot. The fit's sufficiently snug to keep the Elevator together but not so tight that you can't disassemble it should you need to.
The base of the bars and the holder both have sturdy rubber feet to prevent the rig sliding around the desk, while the bars' upper surfaces have long, flat rubber pads to stop your notebook slipping off. There's certainly plenty of friction to be felt if you try and move either laptop or Elevator, and I had no concerns that my 15in MacBook Pro would drop onto the desk.
Incidentally, the bars are spaced far enough apart to allow you to hold them with your fingers as you grasp the sides of the notebook, allowing you to pick both up together if you want to move to another desk.