D-Link first to offer 802.11n ExpressCard for laptops
Single-band only
---
D-Link has begun shipping one of the first pre-standard 802.11n wireless networking adaptors that will slip into a notebook's ExpressCard slot.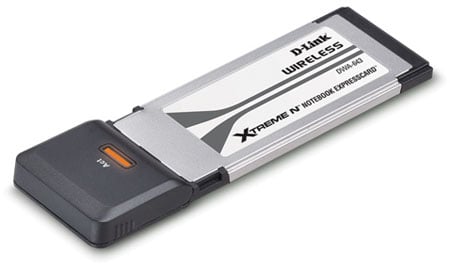 The Xtreme N-branded DWA-643 is an ExpressCard 34 device so it should also fit into laptops with ExpressCard 54 bays. Alas, the the device only operates with Windows, so MacBook Pro owners who don't possess a Core 2 Duo-based model remain out in the cold as far as next-gen Wi-Fi goes.
The D-Link adaptor is also a single-band 802.11n adaptor, only able to talk to 802.11n, 802.11b and 802.11g routers and access points in the noisy 2.4GHz band and not the cleaner 5GHz region into which 802.11n can extend.
The card does support WEP, WPA and WPA2 Wi-Fi security systems.
D-Link said the DWA-643 is available in the US for $120. As yet, UK pricing has not been announced, but the gadget's expected to go on sale here in May.