This article is more than 1 year old
IBM hurls confident 'to come' ship date for late Power6
Abandons years
A disturbing presentation slide from Big Blau has shifted the delivery date of IBM's Power6 chip from mid-2007 to "to come," seeming to confirm that suspicions of Power6 issues are correct.
Over the past few weeks, IBM has been holding technology discussions in Germany, disclosing information on its Power-based server line. The Register happened upon the slide deck for one such presentation and noticed a major shift in the Power roadmap. IBM's Power5+ processor has been extended out through the duration of 2007, while Power6 has been shoved into the "to come" era.
A spokesman denied any delays. "IBM is on track to launch POWER6-based servers in mid-year 2007," he said.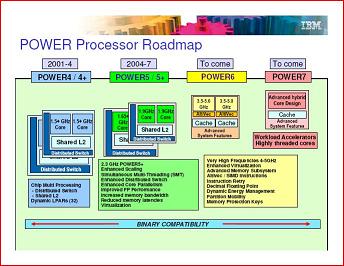 To Come?
IBM once hoped to get the dual-core Power6 chip out in 2006 (see below). It then gave up on such ambitions and placed the chip's delivery date at mid-2007.
Recently, however, silicon speculators have grumbled about more delays facing Power6. IBM has pledged to pump the product's clock past 5GHz, and insiders suspect the company is struggling to get solid, high clock rate yields. In addition, more gossip mavens claim that IBM's AIX 5.4 delays have hampered the Power6 roll out.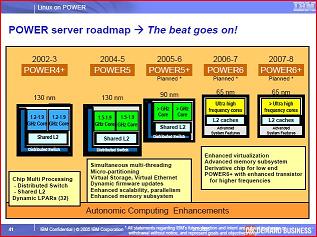 2006, you say?
IBM will need the speediest cores possible to make Power6 look good, since it will be relying on a dual-core chips while rival Sun Microsystems heads to 16 cores and Intel moves to four-cores with Itanium. The computer giant loves to take the benchmark lead wherever possible but could struggle to do so on multi-threaded server software if it can't crank up the GHz as expected.
Of course, the Germans may have just been too casual with their slideware. They are an imprecise people after all. ®