Goodbye, 'Robson', the codename Intel applied to its add-in Flash cache unit for notebooks. Hello, instead, Intel Turbo Memory, the go-to-market name for the system start-up acceleration system.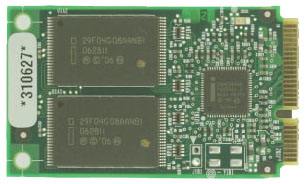 Intel claimed ITM will reduce boot times by up to 20 per cent and potentially half the time it takes frequently used applications to load. ITM connects to the host across the PCI Express bus and can copy data to main memory much more quickly than the hard drive can.
In the past, Intel has also touted ITM's power-saving benefits - if the data's coming from the Flash cache, the energy gobbling hard drive can be powered down for a bit, reducing the drain on the laptop's battery.
ITM will be offered to notebook makers as an optional add-on to the next generation of Intel's Centrino platform, aka 'Santa Rosa', due to go on sale in May.
Similar topics
Narrower topics