The birthplace of Silicon Valley has been closed.
Mountain View residents passing by 391 San Antonio Road - the original site of the Shockley Semiconductor Lab - will find the building is now off-limits. The International Produce Market that had been operating on the site has been boarded up with no word provided as to what will replace it. The move comes as a shock to the handful of people who visited the store every year, seeking more information about Shockley.
William Shockley set up his semiconductor lab in Mountain View in the mid-1950s. He hoped to be close to his mother who lived in Palo Alto and pushed out the owners of a fruit packing plant at 391 San Antonio Road to start work constructing transistors. The decision to locate the lab in Mountain View would prove pivotal for this region.
Shockley hired some of the brightest young minds around, including Fairchild Semiconductor and later Intel co-founders Robert Noyce and Gordon Moore. In addition, Shockley settled on silicon as the material of choice for his transistors - a somewhat risky move at the time.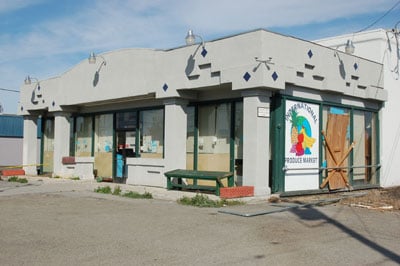 No More Fruit
Shockley shared a Nobel Prize for this transistor work in 1956. A short time later, eight of his best workers left his lab to form Fairchild. That company would prove a success and spawned an entire generation of semiconductor entrepreneurs who broke off to create their own companies in the area. It took only a few years for the start-ups to replace the orchards in the region, turning the Valley of Hearts Delight into Silicon Valley.
(There's plenty more information about Silicon Valley history in this ground-breaking, uplifting, charming book penned by your reporter. The book ships in September, but you can - and should - buy it now.)
Mountain View claims Shockley's lab as the birthplace of Silicon Valley for obvious reasons. Palo Alto, however, points to the earlier HP Garage as the birthplace. Former HP Carly Fiorina approved the purchase and restoration of the HP Garage, making it a much nicer spot to visit than the now defunct International Produce Market.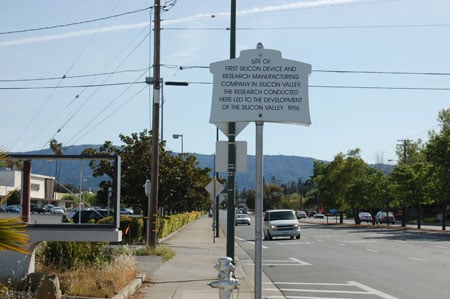 Remembering Shockley
Visitors to the 391 San Antonio Road store used to find a humble display about Shockley resting above large crates of apples. The display is still visible through the window of the locked up building. The historical markers outside of the store remain.
The fruit stand proved a fitting replacement for Shockley's lab, and we're anxious to see what will sprout up on the site next. Let's hope it's not a Burger King or the like. ®