How to get your Wi-Fi working again
Out with the old, in with the new
Powerline wired networks
This is a very attractive alternative to wireless because it can be faster than 802.11g, more secure and, depending on the way your home's connected to the mains, less prone to interference. It's easy to put in place. Plug one unit in near your router and connect the two together. Then add more powerline adaptors around your house in places where you're going to want to connect from. There are limits on how many nodes your powerline network can have and still link them all efficiently, and these vary from vendor to vendor, but you should have enough for most of the rooms in your house.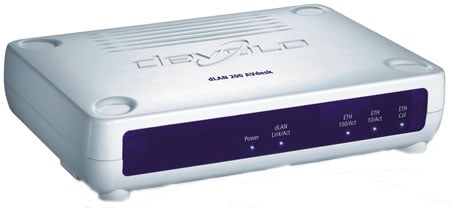 Devolo dLAN 200 AVdesk 200Mbps HomePlug Ethernet adaptor
The downside is that you can only connect to the Net in cable's reach of a free mains wall socket - you can use multi-socket distribution board, but it's not recommended, especially if it has a surge-protector fitted. This makes it more suitable for clients in fixed positions - desktop PCs, set-top boxes, media streaming kit - than ones that connect on an ad hoc basis, such as laptops.
Here are the 200Mbps powerline adaptors Register Hardware has reviewed:
Powerline WLAN extenders
Netgear's WGXB102 54Mbps WLAN range extender kit comprises a pair of devices that together create a powerline Ethernet link between two mains sockets. One of them incorporates a 10Mbps Ethernet port into which you connect your broadband modem or your router. The second unit incorporates a wireless adaptor and can operate as an access point or as a router.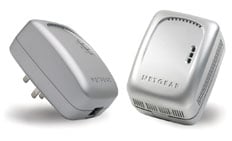 Netgear WGXB102 WLAN extender kit
Installation is trivial - just connect the WGXB102 units up and plug them in. Out of the box they create a separate WLAN, but I wanted to create what is, in effect, a single WLAN to ensure an automatic connection when any of my pre-configured laptops start up. The trick here is to log into the AP and set it up to mirror your existing WLAN's settings. I made the elementary error of neglecting to pick an access point IP address that was outside the router's DHCP range. Once I'd sorted this I was able to connect to the internet via the WGXB102.
And connect well too. The WGXB102 creates a 14Mbps link across the mains but that was sufficient for me to not only connect wirelessly by notebook running regular email requests, maintaining multi-client IM connections and doing web browsing, but also hosting my Slim Devices Squeezebox 3 while it drew down a 128Mbps MP3 stream. All without a hitch.
Well, almost. I noticed no problems on the notebook side, but starting a download caused the Squeezebox playback to stutter. A faster powerline link is needed. A 14Mbps HomePlug has a typical throughout of 4-6Mbps, well below 802.11g's real-world speed of around 20Mbps. UK supplier Solwise has an 85Mbps unit, the NET-PL-85PEW, which connects to any standard HomePlug 1.0 Turbo-based powerline adaptor and should deliver an 802.11g-comparable powerline link. Another powerline specialist, Devolo, has a 200Mbps HomePlugAV-based WLAN extender unit coming in the May/June timeframe.
Matching the powerline performance to the wireless throughput is key here. Within the combined WLAN, you can't guarantee which base-station - access point or router - you're going to link to, unless they're fairly far apart, and you don't want to connect to the slower link unless you have to.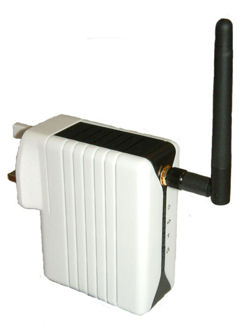 Solwise NET-PL-85PEW 802.11g WLAN extender
The units aren't expensive, but you may feel you'd rather pay a little more and get a next-generation router and adaptor. Solwise's 85Mbps extender and one of the company's wired powerline units for the router end of the link will set you back around £85, for example.
Still, it's a good option if you want to extend the range of a network beyond its usual limits - provided you have a handy mains socket.