How to get your Wi-Fi working again
Out with the old, in with the new
Interestingly, Apple's new Airport Extreme Base-station router is a dual-band 802.11n device, allowing you to force it to operate only in the 5GHz band. Since it only costs around £29 more than the N1 - £119 to £90, its future-proofing may well make it a more attractive buy, whether you're a Mac user or not.
Not that the N1 is a poor choice. Belkin's software makes set-up a doddle and it's handily compatible with both 802.11b and 802.11g for older, un-upgradeable devices. I hooked the N1 up to my cable modem, and was quickly up and running with the 802.11n USB adaptor plugged into my Vaio in the next room. Here, the signal registered as four blocks, two higher than the 802.11g RangeMax router yielded in the same location, albeit at a different time.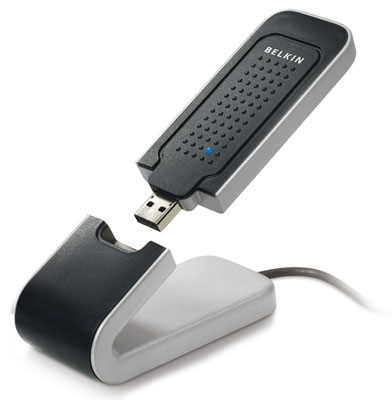 Belkin's N1 802.11n USB 2.0 wireless adaptor
Downstairs, I connected my 802.11g-only MacBook Pro and similarly spec'd Squeezebox 3 to the network with a good signal strength even in previously dodgy spots. That said, both connected just fine in the same locations with the RangeMax. Moving around, the N1's 802.11g signal rose and fell much as the RangeMax's had. So legacy devices aren't going to suffer if you go straight to an 802.11n box rather than an 802.11g-specific unit.
I also connected up Netgear's WN121T USB 802.11n adaptor and had no trouble connecting to the Belkin router and staying connected, so vendor claims that the technology's well poised to pass interoperability tests seem accurate. Netgear's USB gadget is less compact than Belkin's - it won't connect directly to a PC's USB port, for example. But where Belkin's product has its own cradle, the Netgear has a neat flip-out stand. I also tried a Netgear WN511T PC Card adaptor with similar results.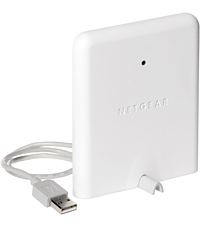 Netgear's WN121T USB adaptor
Apple and 802.11n
If you're a Mac user, there's currently only one way to connect to an 802.11n network: buy a new computer and then pay Apple an extra $2/£1.25 for the software you need to enable 802.11n on your machine. This is a disgrace, I'd argue, but what's worse is the unwillingness of networking kit vendors to capitalise upon it. None of the ones I spoke to plan to offer Mac drives for their PC Card and USB adaptors, even though these devices could be used to connect older Macs to these vendors' routers.
One ray of hope is US software developer OrangeWare, which has been offering Mac drivers for a variety of PC Card and PCI add-in Wi-Fi adaptors for some time. The downside is there's no 802.11n support yet, and OrangeWare hasn't updated the code for over a year - not a good sign. The company didn't respond to my requests for a clarification of its update plans.