Reg Reader Workshop The BI jargon mini-poll results are in and they make interesting reading, with lessons in there for both vendors and IT departments.
Over eighty per cent of those who gave us their feedback believe that vendor marketing material is often too idealistic and generating unrealistic expectations amongst business users (Figure 1).
This wouldn't be such an issue if vendors were keeping IT guys in the loop enough. The trouble is though, that while IT are involved to one degree or another in defining BI requirements in the majority of cases, readers tell us that marketing and education material is heavily skewed towards business users (Figure 2).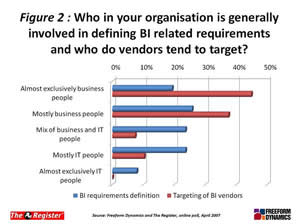 So basically, we have vendors trying to create demand among users by getting them all excited about things that may not be that easy to deliver in practice, then IT are left in the position of having to manage expectations back down to earth when the users come running waving the sexy vision in their hand saying "I want one of these". This seems to be the essence of what we are hearing, at least.
So what can be done?
Well some readers had ideas on what the BI vendors could do to make their marketing and education material more genuinely useful in the decision making process. One clear theme was to keep the material grounded in practical reality, perhaps with the use of more "real world" rather than glossy PR style case studies:
"Make it realistic, clear, understandable"
"Don't make promises based on a best case scenarios"
"Produce realistic case studies"
"Focus on real customer success stories"
The point about making sure material is relevant was also made. Corporate and small business requirements can be quite different, as highlighted in comments such as:
"Provide benefits / examples targeted at smaller business rather than very large organisations with unlimited resources".
So what can we conclude?
Well, the survey and comments do indicate a lot of interest in the IT profession for BI, but that there is clearly a lot of mistrust and wariness of vendor messaging. It is safe to say that a very large proportion of BI marketing is considered to be well over the top and probably is not reaching all of the major parties involved in the BI decision making / solution definition processes. There is also a suggestion that vendors create wants and desires in the minds of users that do not always map onto what they really need, but no real surprises there given the nature of the software sales beast.
The biggest issue to come to light is that whilst vendors are targeting much of their efforts at business managers, they are arguably not paying enough attention to IT folk. In doing this, they are in fact creating a major disjoint, which in a world that is focussing a lot of attention on 'business / IT alignment' is clearly counterproductive.
Given the importance of BI to the business, perhaps a little more balance and thought needs to be put into the sales and marketing activities of vendors, and for those in IT, be aware of the need to take business user information requirements seriously, because if you are not managing their expectations, someone else is. ®