Intel restyles laptop as wireless fashion accessory
Cable-less connectivity, charging
---
IDF Say hello to Intel's latest portable PC concept: the "metro notebook", an ultra-thin, ultra-light laptop for the ladies. Designed to be carried over the shoulder, the sub-0.7in thick, 1kg device sports an always-on secondary display for fast info updates.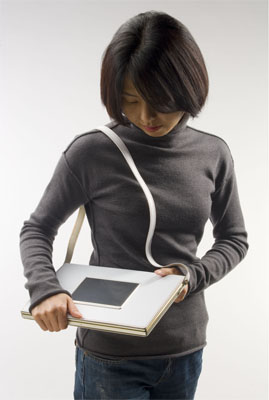 The Core 2 Duo-based machine's small screen is a colour non-volatile e-ink display that continues to show content - email, calendar entries, eBooks, etc - even when the power's cut. The e-ink screen is mounted on a leather wrap-around cover which connects to the laptop through a dock connector that's also capable of hosting USB traffic.
The unit's primarily designed for entirely wireless communications with reconfigurable antennae able to switch between the Bluetooth, Wi-Fi and WiMAX links the laptop's envisaged to maintain.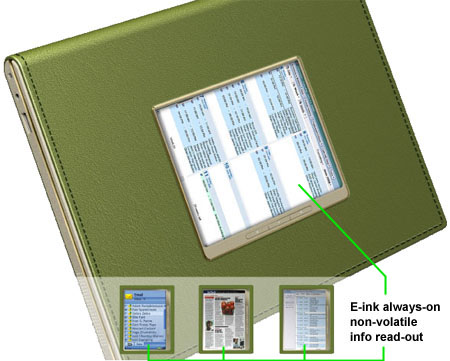 Intel also said it envisages the machine shipping with a inductive connection-less charging pad, allowing the batteries of phones and PDAs to be recharged just by placing them on the notebook.