Several UK bumblebee species are heading inexorably for extinction, scientists have claimed, part of a process caused by "pesticides and agricultural intensification" which could have a "devastating knock-on effect on agriculture".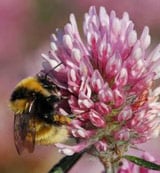 According to Professor Dave Goulson, director of the Bumblebee Conservation Trust at the University of Stirling in Scotland, Britain once boasted 25 native bumblebee species. Three have disappeared in the last 50 years, 10 are currently "severely threatened", and two are "are teetering on the edge of extinction and could be gone in five to 10 years quite easily".
The reason, Goulson told Reuters, is that there "just aren't enough flowers around". As hedgerows disappear, so does the bumblebees' food source, possibly resulting in a vicious circle where there aren't enough bees to carry out essential pollination work.
The end result could be the end of many rare plants and a sharp reduction in the "production of crops such as raspberries, oil-seed rape, runner beans, and broad beans".
The solution, Goulson says, is for farmers to adopt "more wildlife-friendly farming methods" to avert the bumblebees' collapse. He concluded: "They're a quintessential part of the summer - the buzz of bumblebees on the flowers in the garden. It would be a real shame if we lost it." ®
Bootnote
Thanks to Ben Darvill of The Bumblebee Conservation Trust who sent over a detailed list of endangered bumblebees. All are of the genus Bombus, and those marked "UKBAP" are recognised as threatened by the UK Biodiversity Action Plan:
B. distinguendus - the Great Yellow Bumblebee. The UK's most threatened, only survives in crofted areas (itself a threatened way of life) in the Hebrides, NW Scotland and Orkney. UKBAP
B. sylvarum - the Shrill Carder Bumblebee. A Southern UK species now known from only 7 locations, and seriously threatened. Thames gateway developmemnts may destroy its biggest remaining stronghold. UKBAP
B. humilis - the Brown-banded Carder Bee. Another Southern species, similarly respricted, but not thought to quite as 'at risk' as sylvarum. UKBAP
B. muscorum - the moss carder bumblebee. Only abundant at 5 sites in southern UK, and declining heavily in Scotland - candidate UKBAP
B. monticola - the blaeberry bumblebee. Restricted to remnant heathland areas up the backbone of England and in Scotland.
B. ruderatus - the ruderal bumblebee. Only recenty recognised as a good species. Found in the East and SE of England. UKBAP
B. ruderarius - the red-shanked bumblebee. A southern UK bee, large range contractions and poorly understood. Candidate UKBAP.
B. soroeensis - the broken-belted bumblebee. Massive range contractions. Once widespread, now virtually confined to Scotland.
B. subterraneus - once widespread in the South, now thought to be extinct. Last seen at Dungeness in 1988. UKBAP
There are also 6 cuckoo bumblebee species, some of which may also in be decline - but data is lacking on these.
B. distinguendus and sylvarum are the most teetery of the lot!