IDF Intel has indeed thrown its weight behind rival chip maker VIA's Mini ITX motherboard form-factor, as reported back in January, though the bigger company wasn't exactly going out of its way to reveal its new compact mobo's origins.
Intel's entry into the Mini ITX arena is the Desktop Board D201GLY, which it's pitching at providers of low-cost - sub $300 - computers, particularly those pitched at "emerging markets" - what used to be called, in less euphemism-friendly times, 'poor countries'.
The 17 x 17cm board incorporates a soldered-in-place 1.33GHz Celeron 215 processor, SiS662 integrated chipset, a single DIMM slot, legacy ports, 10/100Mbps Ethernet, a PCI slot, six USB ports and a seventh mounted internally for "an OS on a Flash drive" - an item Intel launched not so very long ago.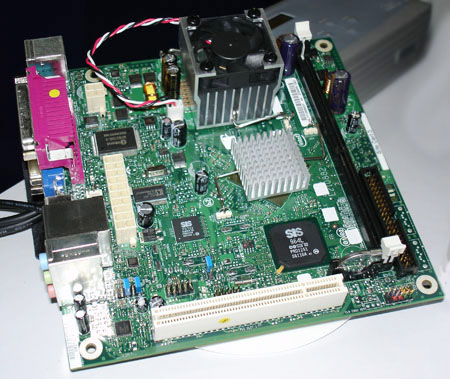 Intel said the board will become available this quarter, but we can narrow that down to the second week of May. It will go on sale in boxed and unboxed versions.
Similar topics