Role-players amok in Second Life
Games within a game
It wasn't a commercial success like Gunsmoke, but it did attract a core of loyal, affectionate fans -- loyal and affectionate enough to keep it in syndication for 40 years. You can tune into Star Trek or one of its spin-offs any day. Gunsmoke not so much. So it's hardly a surprise that the fans who have kept the franchise alive for so long might also enjoy Star Trek role-play, as indeed they do. There's plenty on line, although much of it is done via email.
Second Life brings far more to it by providing animated RP. At the Galaxy sim there are several USS Enterprise sets; role players wear authentic-looking uniforms, and there are even sound effects from the TV series.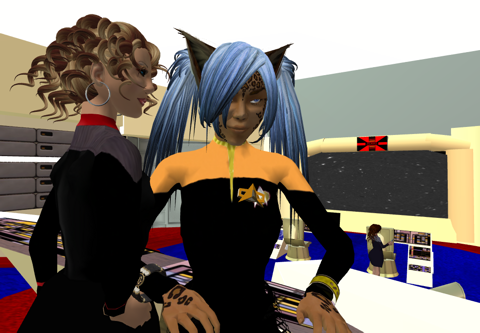 The sets and uniforms are based on The Next Generation. Scenarios are original and loosely scripted, but they remain loyal to the overall history and culture established in the numerous TV series. That is, you would not find an RP where it's assumed that the Vulcans are the Federation's fiercest enemies, or where Kingons do not, in a sense, serve as anti-Vulcans.
So Trek RP is not as free-form as some others. Missions are plausible within the context of the series. Participants try to behave as TV fans would expect a person in their role to behave. That is, if you're playing a Starfleet science officer, you try to sound like one, taking care to use the same Treknobabble that has entertained generations of fans.
I had an opportunity recently to observe a couple of Trek RPs at Galaxy. First, I was amazed by the set: it really looked like the TNG Enterprise bridge. The uniforms were fabulous, and the players really spoke the way one would expect them to. It wasn't a matter so much of imitating a character from the series, but rather of conforming to the role in general, and adding one's own personal touches.
I participated in real-life RP once in my life, during a summer at uni when I was living on campus doing research, and I can say I've never had a desire to experience it again. There weren't many students about and there was little to do for entertainment, so I got Shanghaied into a D&D thing with about six others. It went on for several weeks, and I rather dreaded each meeting, but I had agreed to see it through, so I was stuck. The people I was playing with were all very pleasant, but the whole thing was so silly and tedious. I found it a little embarrassing, to be honest.
So naturally, when I began investigating RP in Second Life, I was prepared to hate it. Much to my surprise, I've really enjoyed it. The Star Trek one was the first that I observed, and I couldn't get enough. Time flew, and I just couldn't believe how quickly it was over. It was almost like watching an original episode.
Admittedly, it was a bit static: people don't move their avatars nearly as much as actors on the series would do, and there's no camera that cuts from set to set, and you do read rather than listen; but considering that it's being done in an animated chat room, you would be impressed by how absorbing it can be.
And just plain fun, too. One thing my friend Tateru pointed out about role-players - and I noticed this myself, even during my unfortunate introduction to D&D - is that they tend to be knowledgeable, bright, affable people. So it's really easy to make new acquaintances if you do a little RP in Second Life. Even if you find that the play itself isn't for you, you might come away with a few new friends.