Online banking customers logging onto the Lloyds TSB website on Friday morning were confronted by potentially confusing warnings about a security certificate.
Consumers were greeted with a "website certified by an unknown authority" pop-up message for *.clickshift.com after accessing online.lloydstsb.co.uk.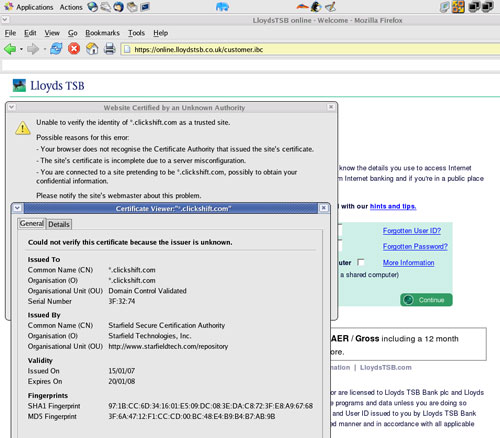 The domain involved is not an essential part of the Lloyds site, so refusing the certificate doesn't cause a problem. The certificate involved is attached to a webtrends stats gathering engine.
Instead of advising customers to refuse the certificate, Lloyds TSB online banking staff told Reg readers to click OK when the SSL security error popped up. So users are being asked to ignore a warning about the possibility that confidential information might be stolen by someone pretending to be clickshift.com, an entity few are likely to recognise in the first place.
"Given all the scams that you are advised to look out for, you would have thought the bank would have been quicker to advise people to not accept it and deal with the pop ups rather than train customers to just say yes blindly," said Reg reader Zoe, summarising the concerns about the site several of you have written to us about this morning. "It's worrying in its own right that a UK bank is using a hosted web stats gathering engine, thus transferring all page visit information to another set of servers not under their control," she added.
Lloyds TSB responded promptly to our requests for comment on the matter, confirming that punters phoning up with concerns are been advised to accept the certificate. A spokeswoman for the site acknowledged the situation was far from ideal and could give rise to security concerns among its online banking customers.
She said the certificate glitch was nothing to worry about, adding that customers should be assured that Lloyds TSB would take its site offline in the event of a serious security concern.
The cause of the certificate glitch is not immediately clear. Lloyds TSB is working on the problem, which it hopes to resolve sometime later this afternoon. ®