This article is more than 1 year old
Another postcard from Intel in Lisboa
Second Lifer says: "It's not a game" at Intel's EMEA Channel Conference.
Intel has to find something to do with all that processing power it supplies and perhaps rendering yer actual Avatar is it.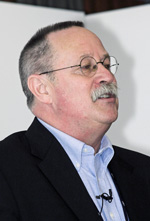 Well, whatever the driver, at the Think Parallel Intel EMEA Software Conference 2.0 in Lisbon, Jonathan Erickson (Editor-in-Chief, Dr Dobb's Journal) gave a convincing presentation of Second Life as the new developer community. It's just like an extension of Dungeons and Dragons really - not that I was ever a Dwarf in a distant castle dreaming of being a nerd programming banking systems, oh no, that wasn't me at all, that was some other Dwarven manifestation….
It helps that Second Life has a C-like programming language with physics extensions, of course, as otherwise you might waste time having real social interactions with your Avatars. Physics extensions? Well, if you create an object and switch the "physics" property on, if you drop it in cyberspace it bounces off the cyberfloor. This is great fun, if you're a programmer; and it is also the first time I've come across a public online facility that promises to actually supports an online community with a promise of real social interactions (rather as CIX conferencing - CIX is Compulink Information eXchange - still does, albeit with rather less rich a user experience).
I've lost count of the times I've tried online communities and gone back to good ol' CIX – because CIX supports multi-way discussions between people in the way that work in the real world (for various arcane reasons to do with having good conversation threading etc). Well, now Second Life might be another place for an enterprise to set up an online collaborative community for its developers – and with lots more "street cred". IBM and Sun, to name just two, certainly seem to see it that way. IBM has over 20 Second Life "Islands" (an Island is a private estate in the Second Life world) and several thousand members; while Sun is handing out free cyberTshirts to clothe your Avatar in.
And when Erickson found that Grady Booch couldn't make it to an awards ceremony recently, he set up the ceremony in Second Life, spending a few virtual "Linden dollars" (Second Life is set up by Linden Labs and, although basic entry is free, it's a rather commercial place) with a passing artist Avatar to get his skin texture improved for the event. It seems to have been a success, with passing Avatars dropping in from all around to applaud Grady!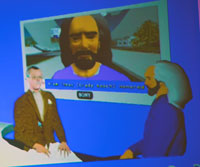 Jonathan Erickson gives an award
 to Grady Booch in Second Life.

Well, they didn't drop by for the impressive graphics (they're adequate for the job but not much more), and that's rather the point. Second Life can't compete with the latest games with the latest 3d graphics animations, but it isn't a game, so it doesn't have to. Its popularity stems from its ability to provide a "second life" in some sense (although I bet it doesn't make the actual discussions as effective as many of those on CIX).
And, I have to admit that the Second Life client crashes my PC. Perhaps I should be looking at something new, with more memory and, perhaps quad cores. Hold on a second, aren't Intel the ones (indirectly) telling me about Second Life? I wonder if there's an agenda there….
But Second Life already has some 5.3 million users, rising fast, and a flourishing trade in virtual services. And, most important, everything you see or meet in Second Life is created by its users – who retain full rights ownership in their creations. Second Life didn't take off until it came up with a fair IP deal.
If you want to know more about how Dr Dobbs uses Second Life, go here; or go to Second Life's home page.