This article is more than 1 year old
Commodore prices up games machines
Commodore Gaming - the latest reviver of ye olde Commodore brand - has priced up its high-end Wintel gaming systems, pledging to "redefine the line between gaming and reality" - whatever that means - for up to £2899 inc. VAT.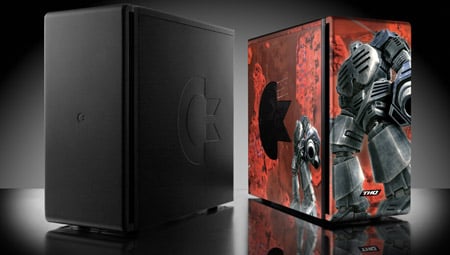 That's what it's charging for the top-of-the-line Commodore xx, unveiled in March this year. The lesser Commodore gx is priced at £1759. Both machines are available from the company's online store.
The xx gaming PC sports an Intel Core 2 Extreme four-core processor, a pair of 768MB Nvidia GeForce 8800 GTX graphics card and a Creative X-Fi soundcard, all fitted inside a casing covered with one of a half-dozen or so painted 'skins' applied to the interchangeable front and side panels.
The machine's specification also inlcudes an Asus P5N32-E motherboard based on Nvidia's nForce 680i SLI chipset. Each system has 4GB of Corsair Dominator DDR 2 memory clocked at 1066MHz. There's a choice of hard drives: two 150GB 10,000rpm boys in RAID configuration, or a single 500GB 7200rpm job.
Running on top of all this: Windows Vista Ultimate. Keeping it supplied with power: a 1,000W ICE Cube PSU.
That Commodore line-up in full
Commodore Gaming didn't say how much the lower-end g and gs machines will cost. These it hopes to offer through retailers later this month. Online stores for Germany, France and Benelux countries will go live in the same timeframe, the company said.