Group Test The stigma of the camcorder as a provider of rubbish quality "comedy" footage shot solely to keep Harry Hill in a job is over. Be it HD pro movie making or just YouTube-style improv clips, there are myriad models on offer so suit any and all budgets...
Sony HDR-UX3E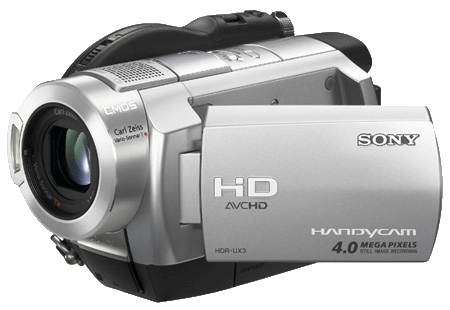 Sony's new AVCHD-format camcorder range has been designed smaller, lighter and more affordable than before in order to try and bring the benefits of 1080i HD home video to the masses. Our pick from the range is the HDR-UX3E, which combines top-notch HD recording with a not-too-scary price tag.
Recording direct to DVD means footage is instantly accessible for the home user to play back on their HDTVs using either the HDMI link or an AVCHD-compatible Blu-ray player - unsurprisingly this includes the PlayStation 3 - but means the UX3E has lost some of its svelteness due to the disc drawer on its side. In Long Play mode a dual-layer disc can hold up to an hour's worth of HD footage and also records 5.1-channel surround sound for the fully immersive experience. It's an admirably good-looking machine though that's easy on the palm and adheres to Sony's rigorous build standards.
The UX3E uses Sony's now ubiquitous Carl Zeiss Vario Sonnar T lens, with the latest generation ClearVid image sensor, meaning pictures are clear and crisp with superb colour reproduction thanks to the ridiculously monikered x.v.Colour mode. Flick to still-image mode, and the Sony will take four -megapixel shots direct to Memory Stick Duo that are equally impressive - though as always no match for a standalone digicam.
A new Auto Slow Shutter function ensures that low-light conditions are handled ably too - an area where many camcorders fall down. Other features include a 10x optical zoom; 16:9, 2.7in LCD screen; and a funky Smooth Slow Record function that shoots at 200 frames per second for tremendous slo-mo playback with sound. Nice.
Sony HDR-UX3E
---
Best for DVD
To DVD or not to DVD - that is the question. Well, Sony has the answer...
Panasonic HDC-SD1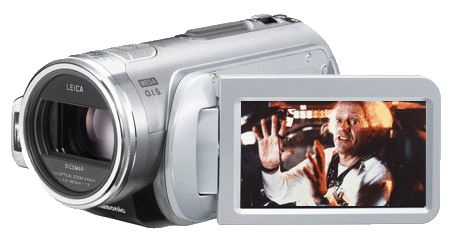 Hot off the presses, Panasonic's HDC-SD1 has been tailored to meet the needs of the home movie-maker who likes nothing more then expressing their film-making credentials via the medium of an absolutely massive HDTV and full 5.1 surround sound.
Recording direct to SD cards, the SD1 is currently the world's smallest and lightest 3CCD - the same image sensor used in pro broadcast cameras - HD camcorder. The design is solid in the hand and simple to use.
Employing the high-resolution AVCHD format means the Panny's pictures are as crisp as a packet of Walkers, gobbling up the capacity of a 4GB SDHC card in around an hour - but the picture quality is most definitely worth it.
The in-built Optical Image Stabiliser that has become a trademark of Panasonic's imaging equipment works well to reduce the slight blur caused by unsteady hands, only adding to the picture quality. Sonically, the SD1 uses a 5.1-channel microphone to record true surround sound, cleverly aligned to the optical zoom so you hear only what you are filming.
Specs wise there's a 12x variable speed optical zoom; 3in, 16:9 LCD monitor; and a 2.1 megapixel still-shot function. Released alongside the HDC-DX1 similarly spec'd camcorder that instead records direct to DVD, this version would have to be our choice simply because of its size, robustness and weight.
Panasonic HDC-SD1
---
Best for action
Hi-fallutin', high-definition from the SD card-carrying folk at Panasonic...
Sponsored: Ransomware has gone nuclear