Those among you who fret at the inexorable rise of the supermarket leviathan - whose tentacles threaten to choke the life out of traditional town centres while sucking profit from poverty-striken suppliers and crushing rivals with irresistable two-for-one-while-stocks-last deals - are directed to Andrew Simms' book Tescopoly: How One Shop Came Out on Top and Why it Matters.
Here's a summary:
The book shows how the supermarkets - and Tesco in particular - have brought: Banality - homogenized high streets full of clone stores; Ghost towns - superstores have drained the life from our town centres and communities; a Supermarket State - this new commercial nanny state that knows more about you than you think; profits from poverty - shelves full of global plunder, produced for a pittance; and global food domination - as the superstores expand overseas.
Sounds good. If you fancy a copy of Tescopoly and simply don't have time to nip down to the local bookshop, why not buy it online?: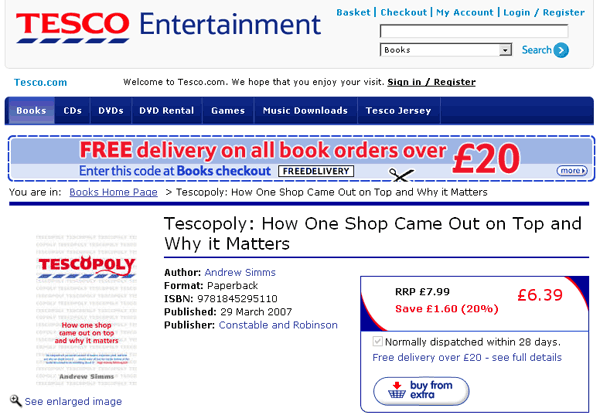 Yup, you even get 20 per cent off down at Tesco, without having to leave the comfort of your PC.
While many among will probably be thinking that Tesco has made a terrible error here in stocking what is a direct attack on its methodology, there is an alternative analysis: Tesco is so confident of its position that it does not feel the need to indulge in the sort of childish behaviour which recently saw British Airways edit Richard Branson from inflight versions of Casino Royale because, let's face it, it would rather make its fleet available to al-Qaeda kamikaze pilots than give publicity to Virgin Airlines. ®
Bootnote
Ta very much to Seamus O'Brien for the e-commerce heads-up.