On the off-chance you want to take a USB Flash drive up Everest or down the Amazon, memory specialist Corsair has launched Survivor, an "ultra-rugged" storage tool that's drop-proof and water resistant to a depth of 200m.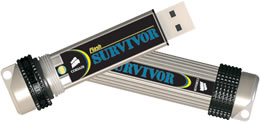 Which is more than you can say for most of the kit it'll be connected to. The Survivor is encased in anodised, aircraft-grade aluminium with rubber collars four bounceability. It looks a little like a Maglite. The USB connector's inside a screw-on cover that extends almost the full length of the product.
Corsair is offering the drive in 4GB and 8GB versions, priced at $130 and $60, respectively. It claimed the drive has a read/write performance up to 34MBps and 28MBps, respectively. The Survivor has 256-bit AES encryption software on board, just in case you need to use it on an espionage mission.
Would-be Bonds can buy the drives from Corsair's website.
Similar topics