Regular readers will know that there are few holds barred down at eBay when it comes to attracting attention to some must-have item.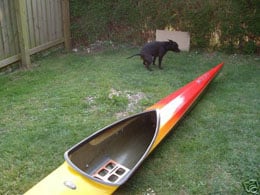 Indeed, we have in the past celebrated the gearbox sex doll shocker, the ashtray cleavage thriller, and the legendary 19 inch monitor flash.
All good, clean fun; unlike one of the snaps accompanying this sale of a K1 Sipre Arrow kayak, in which the owner's dog has evidently decided to indulge in a dirty protest against the world's favourite tat bazaar.
Readers can decide for themselves if this really is a crap selling technique or a cunning canine-supported plan to get a bit of free publicity - in which case it's worked. Expect eBay photos of Franklin Mint heritage collectible figurines featuring copulating animals in the background in due course. ®
Bootnote
You can blame Tom Wills for pointing this one out to us.
Similar topics